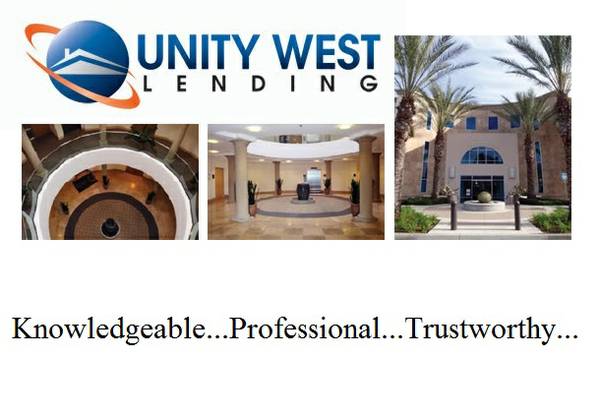 Get to Know Unity West Lending
Knowledgeable...Professional...Trustworthy...
At Unity West we understand that each customer has specific needs and goals when it comes to a mortgage, so we strive to meet those needs and achieve those goals with a wide array of products, investment tools, expertise and best of all quality service and individual attention.
Interest rates are near the lowest they have been in history so it is very important to deal with a reputable company that can deliver. The Unity West Lending division is committed to providing our customers with the lowest interest rates and closing costs available. We care about our customers and will do everything in our power to make sure they are taken care of today, tomorrow, and for years to come.
Why Unity West?
BETTER BUSINESS BUREAU (BBB) "A" RATING - Read client testimonials about our company by visiting the BBB's trustlink community website.
LOW OR NO CLOSING COST OPTIONS - Whether rate or cost is most important to you, we can offer options that fit your needs.
LOCAL TO YOU – Our corporate office is located in Newport Beach where you can meet the team assisting you.
5 YEAR RATE PROTECTION PLAN - If rates drop after your loan closes, we'll lower your rate for free. Call us for details!
Skills
FHA, VA Loans, Conventional, Reverse Mortgage, Cash-out, Refinance, ARM, Adjustable Rate, Fixed Rate, Orange County Real Estate Broker, Direct Lending, Preferred Lender.
Astra A.
07/24/2013
I have received nothing but honesty, compassion, and integrity from Eric Osuna of Unity West. Wishing to work with a lender in my area, I had unwittingly been offered a loan from another lender that was going to take 12k off the top. When I thought about what to do, I remembered conversations I had with Eric before choosing this local lender and knew that I could look him up and ask my questions. He helped me understand and get out of the predatory loan, then basically held my neurotic hand calmly through a confusing and complex process. He always returned calls promptly, answered with patience my many uninformed questions about the process, and worked with me to created solutions for the little issues that popped up. His innate kindness, sense of humor, and infinite patience made the entire process manageable and pleasant. I enjoyed talking with him and wished he lived closer so I could take him to lunch. That's what I want in a financial adviser - someone who truly cares and is a genuinely good person. I would not hesitate to recommend Eric to anyone!!
Gwynn K.
07/03/2013
I am working with Eric Osuna who found me a great refi rate that met all of my needs. He ushered the process through efficiently and took a great deal of time explaining things to me (in other words, he's patient with non-finance types). I would recommend him to my friends which I rarely do as I am very picky about customer service and making sure what is promised is delivered. Eric is on top of things and did not disappoint. It's rare to find someone who follows through, much less on the many, many details involved in securing a loan today! Thanks for all your help Eric!
Jeffrey M.
06/12/2013
I recently refinanced my mortgage with Unity West and had an exceptional experience. In addition to getting an outstanding rate at very little cost to me, I was provided with professional service that made me feel like I was his only client. I received timely emails and updates with accurate information. Because of my agent's skills and abilities I had very little stress or worry during the process. He walked me through the process and gave great advice. I highly recommend using Unity West.
Jessica C.
06/12/2013
I had a privilege of working with Brian A. Konyalian on refinancing of my home. I was referred to him by my friend who also had a great experience refinancing her home with him. He was extremely professional and accessible. He was there every step of the way and ended up getting me the best possible rate out there. I really want to thank him and Unity West for making this refinancing a hassle free experience for me. I highly recommend Brian A. Konyalian to anyone who is looking to refinance.
Ken L.
05/29/2013
Unity West Lending is not you everyday loan company. They go above and beyond to make sure your happy with the outcome. They make sure everything is in order and keep the lines of communication open to assist in any loose ends. I've done a couple of Refinances online before, but Daryl Koster went out of his way to make sure this loan would make it. I appreciate Daryl's candidness and expertise in helping to make sure I was able to get the loan completed and making sure I had all the necessary info for the lenders to make it to completion. We had a few road blocks along the way, but Daryl was able to take care of the obstacles smoothly and professionally. Thanks again Unity West Lending, you have a good man, Daryl Koster, don't let him get away!
Khana D.
04/16/2013
We would like to thank Unity West Lending for the wonderful work on our refinance. We had checked with several companies to receive estimates and choose your company based on the kind and professional services...If anyone is looking for a new loan or refinance please try Unity West Lending. I would highly encourage you to try Michael John Konyalian's service. He knows this business better than anyone else I know and you will be in for a special treat if you work with him. My wife and I will recommend Michael and Unity West Lending to everyone. Michael and the entire Unity West Lending team are the best! Thank you.
Pamela A.
04/15/2013
We really appreciate everything Michael did for us during the refinance of our home. He was professional, friendly, honest and very pleasant to work with. Throughout the entire loan process, Michael stayed in constant touch with us. He let us know every inch of the way what was coming next. He said in our initial conversation that he would do everything in his power to get us the refinance. Well, he delivered on that promise and we got our loan! The refinance went smoothly and was completed in record time, just a little over 3 weeks! We are more than satisfied with the outcome and the service Michael provided. We highly recommend him to anyone looking for someone with integrity and who will get the job done. Thanks Michael for the great experience and for all you did, you are the man!!!
format_quote
Mortgage Broker, Lender, Harp 2.0, FHA, VA Loans, New Purchases, FNMA, USDA, Jumbo Loans. Newport Beach, Real Estate Financing.