Victoria Carmack & Dream Team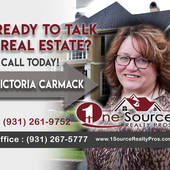 00294252
Real Estate Broker/Owner
Victoria Carmack & Dream Team
"Let 1 Source Be Your Source"
Cookeville, TN

—

1 Source Realty Pros LLC
Goal: Assisting with all YOUR real estate needs. We strive to listen to you and know your needs. We will be an extension of you, and smooth out the rough areas in both selling and buying real estate.
Get to know Victoria Carmack & Dream Team
The relationship between a home buyer or seller and their agent is based on trust, shared goals and understanding.  I strive to continually improve and to do this, I listen and take your needs and wants into consideration.
There are aspects of real estate sales that seem pretty simple. There are many elements of a smooth transaction, however, some parts are complicated and daunting. I will be here each step of the way.
 Give 1 Source realty Pros, www.1SourceRealtypros.com, a call. We desire the opportunity to earn your business. Give us a call (931) 267-5777 or email us at V@1SourceRealtyPros.com  Check out our team website, www.VictoriaCarmack.com. Our websiteis a highly trafficed site. We have a marketing plan for buyers/sellers and would be honored to have the opportunity to assit you with all off you real estate needs. Our Motto Is "One Call Does It ALL."
Experience: Victoria Carmack has been in public relations most of her life. She was a children's pastor for ten plus years, she has worked in the nursing field for over 10 years, and she also has been in retail management. Victoria decided to get into Real Estate in 2003. Her goal was to work with people and assist in making a smooth transaction for the home buyer/seller. Victoria is a very supportive and detailed person. People enjoy working with Victoria and are encouraged by her positive up-beat attitude for life. Victoria's jobs experience has always included working with people. Victoria has always placed people as the centerpiece of her career. Victoria will use her experience and people skills to help create win/win situations in your real estate transactions. Victoria would be honored to have the opportunity to assist you with any and all of your real estate needs. If you have any questions or concerns, Victoria welcomes your call? She will take time to help you, each step of the way. Personal Profile: Victoria's passion in life is a caregiver. She gets her greatest fulfillment in life from helping others. Victoria is honest, reliable, and believes that a team effort will always bring forth the greatest results.
Thanks in advance for considering us,
Victoria Carmack & 1 Source Realty Pros
Victoria Carmack & Dream Team's Blog Posts
First Realty Dream Team - Zillow Ad
Who we are as your Local Real Estate Experts -
Certifications

Using the Web to Sell Your Home: 
We are members of the most powerful real estate network in the world and for good reason. Most agents use software that only puts your home for sale on a single website, but with our web marketing solutions your home can be marketed on hundreds of local websites. Think about the additional exposure. Homes sell themself, but they must get in front of the people looking for your home. When buyers begin their home search they typically start with a search engine such as Yahoo! or Google! If you list with us, we can offer a very important search engine advantage. Homes that we list can get their own website, which will allow it to be found directly by search engines. We can make your home very easy to find on the internet. Our team is a member of three MLS associations which gives every agent from Knoxvile to Nashville acess to set up an apointmet to show your home.
Using the web to find Your Home:
Buyers will have access to much more information from my website than the average site. We strive to put many pictures of each home on our site making the homes previewed of pique interest. We also have more detailed information on each home, allowing you the freedom of knowing information not given on an average site. Many questions are answered which will safe you much time and you can instantly figure out if this home will suit the needs of you and your family.
Skills
Good Listener
Excellent Negioation techniques
Team Player
Focus on Details
100% Commitement
We are goal oriented, and service minded team working dilligently for each Customer/Client.
Our goal is to be "Your One Stop Shop" for all your real estate needs.
Our Team Motto is "Together We Can Make Your Dreams Come True"
Testimonials for Victoria Carmack & Dream Team
Victoria is a very caring and personable Real Estate Agent with an untiring drive to satisfy and follow up for her clients. In August 2007 I made an appointment with Victoria and drove down to Tennessee from Michigan to look for housing and she spent the whole day taking me to look at over 20 properties, although I did not find what I'm looking for at that time, she hasn't given up and just about every week she always sends me e-mails of properties with lots of pictures. One day there will be the home that catches my eye and Victoria will be the ONLY Real Estate Agent I will deal with. I would recommend this LADY to ANYONE looking for Real Estate!!!! THANK YOU VICTORIA Buyer William M Clarke

Patsy Giddings

10/17/2013

Victoria is a great person, and a great realtor. Victoria sold our house in a timely manner, and then helped us find someone to sell our home in KY, and assisted in financing, relocating by to Cookeville and closing a home in 20 days. Thanks for a great job. Home Seller/Buyer Mark & Patsy Giddings

Victoria is a personable and professional real estate agent. She is very trustworthy and made my intrests paramount during my purchase. I would definately use her again and would recommend her to anyone without reservation.? Home Buyer John Frawley

Victoria goes beyond the norm expected of one in her field. You know above everything else that you, the person, matter to her first and foremost. Her heart shows in everything she does.? Home Buyer Cindy Shriah

Florida Attorney

12/02/2011

Victoria really worked for us to find the property we were looking for. Easily accessible and knowledgeable about the area and the market. The next time we need a realtor, we'll call Victoria again.? Chief Assistant County Attorney at Lee County John Renner

Victoria is a very unique lady. Without her help we would have lost our home. She listed our home, had weekly open houses, assisted in dealing with the bank and other finicial people to keep us in our home until it finally closed. Looking for someone to help you understand your tranaction, and care for you at the same time? Victoria is the one. She is trustworthy, knowledgeable, professional and very caring. David & Tabitha Green

We can't begin to describe Victoria Seals-Carmack as just a Realtor. She is a friend. She is Heaven Sent. When we were looking to relocate from FL, we didn't even know where to start. We had decided on TN, Scott is from upstate NY and I am from south FL. Victoria called me at home, in North Central FL. She stated she could help us find a place. She would go with us as we needed and she was willing to help us till we located the perfect property. She hiked the pastures with us, went down in basements where I was to scared to go, checked out barns with Scott. We couldn't have asked anyone to do more than she did. She made our dreams a reality. Mr. and Mrs. Scott Morrell

Victoria is concientious, hard-working agent who strives for perfection and complete customer satisfaction. Consistgently performs in an exemplary manner. You can always count on Victoria to exceed all expectations. If the Good Lord made a better real estate agent, He kept them for himself.? Home BuyerAl Mauk ,

Ben & Julianne

11/17/0013

"Victoria is a take charge person who went the extra mile for us in a very stressful HUD closing. She knows the Cookeville/Crossville area and the people. Victoria will do what it takes to get her clients a good deal."
Service Category: Real Estate Agent
Year first hired: 2012/2013(hired more than once) Julianne Sommers
Introducing a fresh new look for your Profile.
Click the 'Edit Profile' button below to enter 'Edit Mode' and continue the tour.