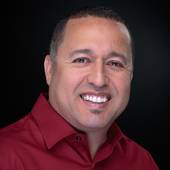 SA640552000
Real Estate Agent
Ruben Hernandez
Yuma, AZ

—

Caroline Auza Development
Serving all of Yuma County; New Home Sales, Resale, Short Sales, Foreclosures, Bilingual English/Spanish, Relocation, First Time Home Buyers, Investors
Get to know Ruben Hernandez
As a Yuma native for more than 40 years, I have personally seen Yuma, Arizona grow from being a small "waive to your neighbor in traffic" town to a multi-corporation / agricultural / recreational and military defense community. Yuma is still rooted in its great home town feel, and a place where you want your children to be raised.
Whether it's golfing 345 days a year, an outing with the family at the lake, a weekend at the world renowned Imperial Sand Dunes, or just taking a 15 minute drive to old Mexico. Yuma brings you diversity, gaming, winter and summer sports and best of all, a friend to always greet you with a fine hello.
Now, tie this in with a REALTOR that captures the abilities of being personable, has strong negation skills, is bilingual, can forecast, motivated, ethical, loyal, understanding and goal oriented and you will find I'm the REALTOR you've been searching for. 
Now, let's put that to work for you!
Ruben Hernandez's Blog Posts
Home Selling
–

almost 8 years ago
Real Estate General Information
–

about 8 years ago
Real Estate General Information
–

about 8 years ago
Real Estate General Information
–

about 8 years ago
Certifications
CAREER PREPARATIONArizona Western College; Yuma, ArizonaEmphasis in Business Administration and Music – August 1989 – August1990 GPA 3.0 Chandler / Gilbert Community College; Williams Air Force Base, Gilbert,ArizonaEmphasis in computer literature and systems i.e., Excel, Word, PowerPoint. GPA 4.0University of Phoenix; Tempe, ArizonaCall Center Management Certification October 2001Arizona Department of Economic Security Child Support Enforcement –January 1993 / June 1994; Updated as required by Arizona RevisedStatues.Commissioned Arizona Notary Public December, 2000 & 2011Member of the Board of Realtors, Licenses Real Estate Agent REALTORPROFILE OF QUALIFICATIONSCareer encompasses a decade of professional experience in positions ofincreased responsibilities; areas of expertise include;• Client Service / Follow Through Legal Ethics Training• Research / Analysis Coordinating / Scheduling• Emphasis in Skip tracing / Locating Inventory Control• Credit / Collections/ Finance / Auditing / Consulting / Budgeting• Staff Training / Motivating / Office Support Activities Team Building / Managing Translations• Briefing / Debriefing Staff Projecting / Forecasting• Melita / Davox Experience Bankruptcy Experience
EMPLOYMENT HIGHLIGHTS

Welcome Home Yuma Realty, LLC. Yuma, Arizona Owner 6/2013 to Current
Established Client Base, Sold Resale, New Construction, Commercial Properties, Foreclosures, Worked with Investors, Successfully Processed Short Sales, Successfully Negotiated on Behalf of Clients, Drafted Policies, Marketing, Assisted in Launching Welcome Home Yuma Realty, Bilingual, Training, Contract Negotiating, Follow Up, Cold Calling, Door Knocking, Self Directed, Local and State Compliant, Accounting ,Budgeting
Liberty Properties & Associates Yuma, Arizona REALTOR 7/11 to 6/13
Listing/Selling/Showing Homes, Data Mining, Dealing with the Public, Contract Writing, Versed on State Statues, Policies & Procedures, Ethics, Builder Knowledge, Community Profile, Updating Broker/Client, Meeting with Lenders, HAFA knowledge, Translation English/Spanish, Networking, Marketing, BPO knowledge, Short Sale/Foreclosure knowledge, Community involvement.
City of Scottsdale Scottsdale, Arizona., Revenue Recovery Manager 3/05 to 9/11
Revised and established operating collection procedures, Established and implemented an internal write off threshold, Assisted in training and launching two collection platforms for Gentax & NorthStar, Site Visits,Enforcing City Ordinances, Monitored and collected on both delinquent taxesand utility services along with other miscellaneous receivables, Citizen / Taxpayerfollow up, Collection consultant for other areas within the City, Abided by allRegulatory and Non-regulatory policies, Cash Handling, Managed a team of 10, Hired/Fired Personnel, Trained and Debriefed Staff, Performed and identified FYE City write off's, Cooperated with other State agencies, Partnered with City Attorney Office and Tax Audit to enforce Tax Ordinances, Established working relationships all cities within Maricopa County, Established a working procedure with REALTORS and the City of Scottsdale to ensure utility services are connected during inspections. 
El Pueblo Enterprises Inc., Gilbert, ArizonaPresident 7/03 to 3/05
Established and created El Pueblo Mexican Food Restaurant, Trained Staff, Prepared Menus, Adhered to all County and State Policies, Budgeted, Ordered Food, Met with Vendors, Scheduled, Hired/FiredPersonnel, Dealt with the Public, Negotiated Sales with Vendors, Forecasted, Prepared and Created Items on Menu, Made Deposits, Cleaned, Cooked, Accountant, Answered Phones, Updated Records, Delivered,Catering, Banquet Set Up, Accounts Receivable, Accounts Payable, Collections
AmeriCredit Financial Services Inc., Tempe, Arizona Assistant Vice President of Collections 1/97 to 11/02
Supporting, Guiding and Educating Staff, Projecting and ForecastingDelinquency, Monitoring the Production of Managers and a staff of 80,Reported Positive Numbers in the Area of 31-60 Days Delinquent,Implementing the launch of DAVOX into the Inbound/Outbound Environmentfrom Melita, Staffing, Collections/Skip Tracing, 61+ (Back-end)Experience, Establishing Repossession Agents, Interacted with Asset Remarketing,Customer Follow Through, Setting Up Predictive Dialing, Assisted in theReduction of Delinquency of a $8 Billion Dollar Company, ManagedRepossessions and Charge Off Accounts, Oversaw the direction of theBankruptcy Dept. in the way of filings, Proof of Claims, Stay of Reliefas well as the P&L Departments and Impounds/Total Loss Unit.
Houston's Yuma Furniture and Galleries., Yuma, Arizona Finance Credit/Collections Manager 9/96 to 12/96
Assessing Credit Applications, Trained Staff, Handled Staffing Issues,Budgeting, Attended Seminars, Updated Staff on Fair Debt CollectionsPractice Act, Filed Legal Documents, Scheduling, Customer Relations,Handled House Visits, Attended Mediation Hearings, Maintained theDelinquency of a $2 Million Dollar Portfolio, Met Daily with VicePresident / President of Operations regarding Portfolio, Assisted inthe Acquisition of New Customer for Company GrowthArizona Department of Economic Security Child Support Enforcement.,Yuma, ArizonaChild Support Technician II 11/93 to 9/96Skip traced and Located Absent Parents, Interpretation of Court Orders,Filed Court Orders, Educated in the Knowledge of Arizona RevisedStatues as Outlined for Child Support Enforcement/Paternity, DataEntry, Assisting Attorney General Office, Provided Case Overview,Appointed to the Task Force Responsible for Developing a Revised Policyand Procedure in Locating Absent Parents, Acknowledged for OverAchieving, Worked as Court Liaison through the State for Paternity andChild Support Orders, Worked closely with the Attorney General Officesof other States in the Enforcement of Child Support
Awards
City Manager Award Recipiant (City of Scottsdale), Notary Public, "Hearts In the Neighborhood" from the Department of Human Services 2010/ City of Scottsale,
Skills
Negotiating, Billingual, Multitasking, Public Speaking
Testimonials for Ruben Hernandez
Nich, Ashley & Zoey

10/09/2012

"Thank you for everything, we couldn't have done it without you! Thank you for making our dream come true!"

(Buyer Testimonial)

"You have done an excellent job for the Harp family. We couldn't have asked for a more caring, respectful, professional, knowledgeable, detailed and thorough REALTOR. You are successful, but will be even more so as your reputation grows."

(Seller testimonial)
Introducing a fresh new look for your Profile.
Click the 'Edit Profile' button below to enter 'Edit Mode' and continue the tour.