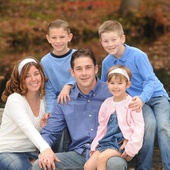 Services for Real Estate Pros
Xavier S. Walter
Medford Township, NJ

—

Home Energy Team
Home Energy Team NJ actively conducts Energy Audits and Energy Efficiency Retrofits. We save homeowners money off their utility bills, and make their homes more comfortable with little cost. As part
Get to know Xavier S. Walter
Xavier S. Walter is an entrepreneur and father of three that began his new career in 2009. He spent over ten years in construction finance and lending industry after serving in the United States Navy. Graduating high school in 1995 from Lenape High School, he is happily married to Danielle Mason-Walter with whom he met in Kindergarten.
Xavier is President of Home Energy Team NJ as a BPI Accredited Contractor, and Certified BPI Proctor serving Affiliates across the country. Xavier is actively conducting energy audits, air sealing, and whole home retrofits under the New Jersey Home Performance with Energy Star program. Working for the Home Energy Team he facilitates all aspects of business operations with a work load of three to six projects per day. Students and partners come from across the county to train with Xavier and his team. Enhancing the mission of the "Whole House Approach" through Energy Auditors and Energy Efficiency technicians. Xavier has worked with local Politicians, and as a board member on the Building Performance Contractors Association he is able to promote the local Green Jobs Market. A teacher with over 100 hours in classroom and field sessions, bringing real-world scenarios to other people interested in a new career.
Xavier volunteers as a committee member for our local Relay For Life, My Three Roses Charity Events, and local fundraising opportunities.
Xavier S. Walter's Blog Posts
Certifications
Question 1. Advantages of a Home Energy Audit in our area.
Answer: A comprehensive home energy audit from Home Energy Team NJ is the first step in making your home more comfortable and energy efficient. Our BPI Certified Energy Auditors will take time to help you understand exactly where the problems lie in your home. We identify unwanted air infiltration, insufficient insulation levels, and problematic health and safety issues. With state-of-the-art technology, our auditors can identify potential areas for improvement. We employ RetroTec Blower Door systems, Bacharach Combustion Analyzers, Testo Gas Leak Detectors, and Flir Infrared Camera to make sure you get the most out of a comprehensive energy audit. Many consumers are concerned about high utility bills, specifically excessive electrical usage. By using the Kill-o-Watt meter, we can accurately assess the typical cost of each appliance based on current electrical prices. We identify important fuel saving opportunities such as natural gas conversions, solar power, and alternative energy sources. The Home Energy Team is a select partner for all federal, state, and utility company rebate programs. South Jersey Gas offers up to $900 rebate for the replacement of old heating units, with high efficiency heating systems. New Jersey Natural Gas offers its customers up to $1,000 of free air sealing for customers in its territory. The Home Performance with Energy Star program offered by the New Jersey Office of Clean Energy will offer up to $3,000 in rebates with an energy audit.
Question #2 - What can homeowners expect from an Energy Audit.
Answer - Customers can expect our auditors in their home between one and three hours. We will need access to all areas of the home, including any attic spaces and basements or crawlspaces. The auditor will inspect for gas leaks, and ensure that no combustion appliances spill toxic exhaust gasses into the home, and ensure no adverse health and safety conditions are present.
Homeowners can choose from two types of energy audits to fit their needs. For $125 we will perform a basic energy audit with combustion safety testing. Our auditor will do a basic walkthrough of every area of the home, and make specific recommendations for upgrade. This audit is recognized or mandated by most rebate and incentive programs. We score the home for energy efficiency to help homeowners understand how their homes measure up to basic energy efficiency standards. For $295 our energy audit will perform the basic energy audit along with a Blower Door test. The Blower door test is used to depressurize the house to help us identify where all leaks are in the building envelope. We will also examine and document electrical usage throughout the home. With the comprehensive audit, consumers are provided a detailed report with a score sheet. In both audits, customers are given on-the-spot pricing and savings estimates to help them make an educated decision. Many of our recommendations are easy Do-It-Yourself items, and we stand by ready to assist any homeowner interested in do the work themselves. Home Energy Team can even offer discounted materials, energy saving items, and free advice after the audit.
Question 3. Why is Home Energy Team the right Choice
Answer - Home Energy Team NJ is New Jerseys leading Energy Auditing and Home Performance Contractor. We are participating contractor in the Home Performance with Energy Star program. Home Energy Team has been selected by many of the States Gas utility as their contractor of choice to perform energy audits and weatherization in their territories. Most participating contractors are Heating Contractors that primarily focus on the HVAC, Heating, and Cooling systems in the home. We focus our attention on the entire house as a system, with no vested interest in higher priced equipment. Our recommendations for heating, cooling, and domestic hot water replacement come with a choice of contractors performing those upgrades. This ensures the customer gets the best prices and service to meet their needs. Home Energy Team has partnered with most of the State's top heating and cooling contractors to help them ensure compliance with the BPI Whole Home Approach.
ADDITIONAL INFO
Home Energy Team NJ stands ready to assist homeowners ready to retrofit their homes to be more efficient and comfortable. We employ high production equipment such as Blow-In Fiberglass and Cellulose machines and High Density Spray Foam spray machines. The Department of Energy encourages all homes in NJ to be insulated in their attic at a minimum R48. That equals to over 16 inches of fiberglass insulation to meet standards set forth at www.energy.gov
Blown fiberglass is far superior to strips of fiberglass batts. We often ask customers if they prefer to sleep with blankets in small strips, or one large fluffy soft insulating blanket. Blown fiberglass is our product of choice for its quality, ease of application, and cost.
Spray Foam has been featured on many local home improvement shows like the DIY Network and HGTV. Spray Foam acts as an excellent air barrier, and thermal barrier. The product acts a great insulator, air sealing agent, and sometimes a vapor barrier. Using spray foam in a crawlspace to replace wet, moldy fiberglass is far superior to any other method. You can get an R14 from only two inches of closed cell spray foam, as opposed to the same RValue with over 5 inches of fiberglass batting. Closed Cell Spray Foam will stop the infiltration of nasty contaminants from the foundation into the home.
Airsealing is the most important upgrade any homeowner can do for their home. The lost of valuable heating and cooling dollars through the building envelope cost homeowner thousands each year. Everywhere a wall meets the attic there is a crack along the edge of each wall. All of the light receptacles, wire penetrations, pipe chases, and thermal bypasses can add up to the equivalent of leaving a window open. Sealing these areas ensures the conditioned air stays inside the home, and is one of the most cost effective measures. The typical home can be sealed in less than half of a day using common expansion foam, often referred to as "Great Stuff." Our trained technicians employ this common material in industrial strength by scouring the attic, under insulation, to find the holes. They also crawl on their backs in crawlspaces to find anywhere unwanted air can sneak into the home. Many common areas include plumbing pipes, recessed lighting, and where TV and cable wires. These small holes may seem insignificant, but add them all together, and they equal a huge hole letting heat rise out of the home. Customers that properly airseal their home can expect an average of 15-20% off their utility costs. More importantly, proper sealing can stop drafty areas that distract from the comfort of the home.
New Jersey Natural Gas - SaveGreen Project - Offers in house Energy Audits and up to $1,000 in subsidized airsealing. www.savegreenproject.com
South Jersey Gas - Offers excellent rebates on High Efficiency Equipment - www.southjerseygas.com
www.njcleanenergy.com - State rebates, incentives, and financing programs
Air Sealing Fact Sheet
In the typical home, as much as 25% of your heating and cooling dollars escape through the unseen crags and gaps usually found in attics, basements, and duct systems and around floors, doors, windows, plumbing recessed lighting, and electrical outlets. It's like leaving a window open all year round.
Home Performance with Energy Star helps eliminate this problem. A Building Performance Institute (BPI) certified technician will test your home using the latest computerized diagnostic equipment. The "blower door" test is performed to accurately measure and detect air loss. Once air leaks are detected, materials such as sealant foams, rigid baffles, caulking, weather stripping and rigid insulation can be used to eliminate air passages in attics, basements, and living areas.
Introducing a fresh new look for your Profile.
Click the 'Edit Profile' button below to enter 'Edit Mode' and continue the tour.