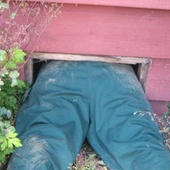 Home Inspector
Mike O'Handley
Seattle, WA

—

Your Inspector Inc.
Get to know Mike O'Handley
Mike O'Handley is President of Your Inspector Inc., in Kenmore, WA and has been inspecting homes since 1996.
Mike does all of his inspections in strict compliance with the Washington State Home Inspectors Standards of Practice and Code of Ethics.
Mike formed the coalition of home inspectors that in 2006 began pushing for mandatory minimum education standards, testing and licensing of all inspectors in Washington State. The coalition worked with State Senator Spanel who sponsored a home inspector licensing bill and in 2008 the home inspection licensing law for Washington State was passed by the State Senate and the House and was signed into law by Governor Gregoir.
Mike was then appointed by Governor Gregoir to the Washington State Home Inspector Advisory Licensing Board where he served two consecutive terms. Mike chaired the sub-committee that drafted the Washington State Home Inspectors' Standard or Practice and Code of Ethics -- the most rigid and consumer friendly home inspection rules in the country.
Mike is one of only a dozen inspectors who serve as a subject matter experts who write new questions for the National Home Inspector Exam every year.. 
Mike is founder, co-owner and Editor of The Inspector's Journal (TIJ)(http://www.inspectorsjournal.com), a webzine for home inspectors, and is well known within the home inspection profession for his efforts to raise the competency bar within the home inspection profession.
Mike grew up working for his father, a custom builder, and spent nearly 21 years in the Army as a military policeman and criminal investigator. Among his many military awards and decorations, Mike is a recipient of the Bronze Star Medal for his actions during the first Gulf War and the Meritorious Service Medal for his undercover work as a covert drug investigator in the 70's.
When he left the military, he took the only things that he knew - construction and investigations - and combined them to open his own home inspection practice. He and his assistant, his wife Yung, make a great inspection team. Yung checks the interior of the home, performs a moisture investigation and tests all appliances while Mike inspects the exterior, landscaping, drainage, roof, heating system, plumbing system, electrical system, fireplaces and chimneys, attic and ventilation and conditions in the crawlspace.
Mike doesn't rush his inspections. Mike has two speeds when he's performing an inspection - slow and careful - and he rarely completes an inspection in less than four hours even on the smallest home. His reports are narrative type reports customized to the circumstances of the home.
In a profession where statistics show that for every 100 inspections an inspector will be sued at least once by an unhappy client; and fully 80% of new home inspectors leave the profession within the first two years, Mike is still going strong after nineteen years and has never been sued or had to go to small claims court to answer customer complaints. He's also never had to submit to arbitration to resolve any customer complaints. That's a record very few inspectors who've been in the business nineteen years can claim.
Mike's dream is to found the first college in North America dedicated exclusively to the education of home inspectors and building science professionals.
Certifications
Mike is a nationally-known building science subject matter expert who moderated the Building Science Forum at the journal of Light Construction Online (http://www.jlconline.com/) for more than a decade.
Mike is a founding member of the Washington Home Inspector's Legislative Advisory Group (WHILAG), a coalition of inspectors that came together in Washington to bring about sensible licensing of home inspectors. 
Mike served two terms on the Washington State Home Inspectors' Advisory Licensing Board and chaired the Changing Business Practices sub-committee that drafted the Washington State Home Inspectors' Standard of Practice and Code of Ethics and the administrative rules governing home inspector contracts and record keeping requirements. He also served on the Education sub-committee that's developed the approved curriculum that all home inspector schools in the state must use when providing training to prospective home inspectors.  
Mike is an Exterior Insulation and Finishing System (E.I.F.S.) specialist trained by the Northwest Wall and Ceiling Bureau (NWCB) to conduct invasive inspection and diagnosis of EIFS issues.
Want to know some of Mike's positions and judge for yourself whether he knows what he's talking about? Just visit The Inspector's Journal and word search his user name - hausdok.  You'll learn more than you ever thought you would about any home inspector on the planet.
Introducing a fresh new look for your Profile.
Click the 'Edit Profile' button below to enter 'Edit Mode' and continue the tour.