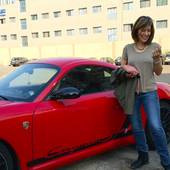 Education & Training
Ann-Marie Clements
Ed.D. candidate, Innovative Proactive Principa
Saint John, NB

—

Candidate for an Ed.D. in Educational Leadership
"Where the BEST GET GLOBALLY BETTER!!!" A web savvy International Offshore American-Canadian Principal, Positive Mindset, Spouse, Parent, Blogger, Avid Biker, Traveler, Exerciser & Lifetime Learner.
Get to know Ann-Marie Clements
WELCOME, to Saint John, New Brunswick, Canada, the 1st Incorporated City of North America!
As of August 31st, 2010, I've taken a "Leave of Absence" from Royal LePage Atlantic  to pursue my previous love of education and leading as a principal for the last 7 years.  I've worked in China, Kuwait and the United Arab of Emirates (UAE) in leadership roles as a principal.   Currently, for the past  two years I've been working on  my Doctoral (Ed.D.) in Educational Leadership.  
I have extensive leadership, negotiating & diplomacy skills from both my educational leadership roles and real estate years.   I'm proactive and use bottom-up leadership skills to motivate faculty and staff in a positive way.  I work on enhancing their gifts, self-esteem and confidence to get the best out of each employee. 
I have the knowledge and dedication that it takes to achieve the results for educational employees to accelerate into the world of international education.  My goal is to increase our students' educational outcomes.
I've had recent formal training in both Educational Leadership & IB education.  I achieved my undergrad degree with emphasis in Science & Mathematics and I've achieved my Master's degree in Special Education at Portland State University.  Received a University Teaching diploma from the University of New Brunswick in Saint John, NB program.  Originally from NYC and I love traveling to different locations of the world.  I've lived in 8 states, overseas in Europe, China, Kuwait  and the United Arab of Emirates (UAE) and still have my home for the past 15 years in Canada.  This type of moving has given me very diversified & adaptable skills. I take pride in specializing in my staff & students' needs.  Every interaction is different, every individual is unique and special.  I  listen so I can discover what their needs and wants really are.  I know that time is valuable and I don't want to waste a minute of it.  
KNOWLEDGE: In today's technological world, any information you are looking for is out therefore the taking, if you know where to find it. I will provide the knowledge necessary to filter, understand and put to best use that information. In addition to the extensive training and education that all teachers receive, I can provide something which most other educators cannot: a positive innovative mindset, with a unique skill-set which draws upon the education and experience as a former Math and Science facilitator, real estate agent and the various careers path I've gained prior to becoming a certified educator & principal, as well as the innate knowledge that comes from living in various parts of the Canada, United States, Europe, China, Kuwait and UAE.
EXPERIENCE: My formal background in Educational Leadership, Math, Science, IB, Special Education and on-the-job training as a principal of  international Canadian and American schools gives me an edge.  My Mathematics experience allows me to compile, analyze and present information to you that offer benefits beyond the typical statistics most principals provide.  
INTEGRITY: There is nothing more important to me than earning and keeping your trust, since the education of children is very important to our future!  I work under the strictest code of ethics and I am here to guide you through the confusing and sometimes intimidating process of making what is likely the single largest investment of your child's educational future. I promise to make that experience as straightforward and pleasant as I can!
Ann-Marie Clements's Blog Posts
Just for Fun
–

over 8 years ago
ActiveRain Community
–

almost 11 years ago
Certifications
SPECIALTIES:
Educational Leadership - Doctor in Education (Ed.D.) candidate @ Liberty University, Lynchburg, VA, U.S.A., began in August 2017
Educational Leadership - CIEL Program (Centre for Innovative Educational Leadership) @ Vancouver Island University, July 2015
IB Teacher Training @ Bethel University, June 2011
Canadian - British Columbia Teaching Certificate; since Aug 2011
Canadian - New Brunswick Teacher Certification: July 2008 - 2016
U.S. States' Teacher Certifications:  Florida, Michigan, Oregon & Washington States

SUBJECTS: Secondary & Elementary Education, Mathematics, Sciences, Info. Tech, Sociology, English, Health, IB - MYP & DP
Skills
Strategic Planning, Curriculum & Program Development, effective staff supervision, Bottom-Up Management, interaction & communication, securing IT resources.  Transformational Leader: Transformed school culture into a positive & engaging mindset.  Empowering Teachers: Effective, motivating, caring, leading by example. Strong Planner: Focusing on leadership capacities: aligning resources through priorities, promoting collaborative learning cultures, using data for decision making and have created trust by engaging in open conversations. Collaborative Problem-solving, Administrative Duties, Event Planning, Mentoring and Bottom-Up Management style.
Introducing a fresh new look for your Profile.
Click the 'Edit Profile' button below to enter 'Edit Mode' and continue the tour.