Been awhile since I've posted any sales information. As I'm not selling real estate anymore I've found it better to leave those posts to people who are actually in the trenches.
But, I thought maybe I'd take a quick look at how last year went, compared to the three years before. Are we better? Worse? About the same? Well, here goes...
The usual caveats apply. This information addresses only residential properties. I did not look at commercial or land. These properties were in and around the Sumter area (Sumter, Lee and Clarendon Counties, for the most part).
This chart depicts solds, pendings, withdrawns and expireds by year from 2007 to 2010. It should be noted that our MLS provider doesn't keep data forever, the expireds and withdrawns get dumped after awhile. So the very low numbers in 2007 and 2008 aren't necessarily indicative of low numbers -- those listings may just have gotten deleted to save space.
Looks like a trend downward to me, even without the drastic "uptick" in withdrawns and expireds. Fewer houses moving, fewer contracts being accepted.
Next, I put together a chart to look at average list and sales prices, from 2007 to 2010.
This seems to indicate that we had a fairly steady downward trend, until last year. 2010 seemed to show an increase in list and sales prices both. An increase in one or the other wouldn't be good news, but both... Well, it's only one year, and the second foreclosure wave is about to hit us. But if it's a good sign we're all going to be happy for it.
Last I compared days on market and the list to sales price percentage, which around here doesn't move much. And it didn't.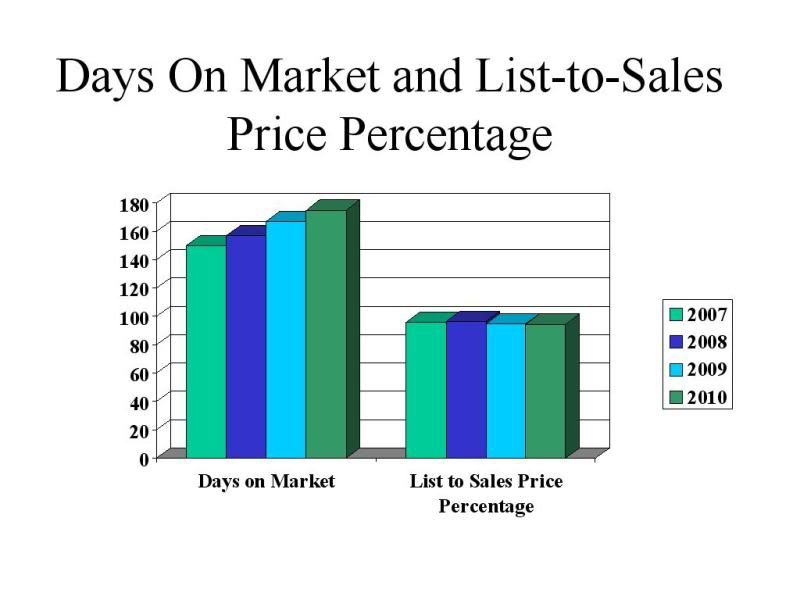 Homes are taking a bit longer to sell, but the list to sales price percentage is holding steady. So, still no bubble. Which is a good thing.
That's about it for now. All of the above information was taken from the Sumter Board of Realtors® / MLS on January 16, 2011.