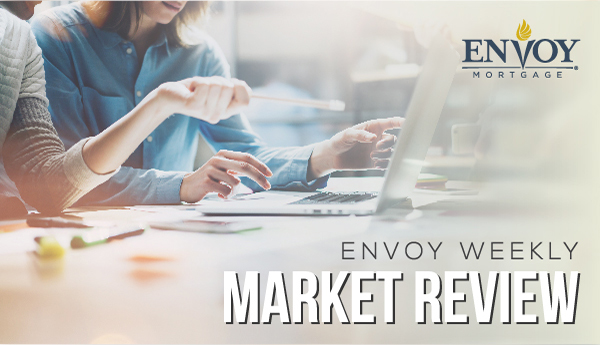 09-13-2018
 

EQUITY INCREASE

Homeowners are in the money according to Black Knight Financial Services' (BKFS) latest Mortgage Monitor Report. BKFS says that the amount homeowners can borrow to keep their mortgages at or below 80% of the total value of their homes has reached an all-time high. "Tappable equity" grew by $256 billion in the second quarter and now totals $636 billion.
 

RATES RISE

Interest rates for 30-year fixed rate mortgages rose for the second consecutive week and are up three-quarters of a point over the same time last year according to Freddie Mac's Primary Mortgage Market Survey for the week ending September 6. Freddie notes that investors are optimistic about the economy's strength in spite of rising borrowing costs.
 

GENEROUS JOBS

The latest Job Openings and Labor Turnover Survey (JOLTS) from the U.S. Department of Labor showed open positions at a record high. While economists note that labor demand could lead to wage growth, there are also concerns that a lack of "worker supply" could slow overall economic growth.
 

FIDO FACTOR

A recent Realtor.com survey revealed the real decision-makers in the home buying process: 79% of respondents said they would pass on their dream home if it didn't work for their pet. Realtor.com Chief Economist Danielle Hale says, "It's not terribly surprising that when pet owners are buying a home, their best friends get what they want."
Sources: Black Knight Financial Services, Freddie Mac, U.S. Department of Labor, Realtor.com
All applications are subject to credit approval. Program terms and conditions are subject to change without notice. Some products may not be available in all states. Other restrictions and limitations may apply. This is not a commitment to lend. Envoy Mortgage Ltd. #6666, 10496 Katy Freeway, Suite 250, Houston, TX 77043, 877-232-2461 | AR Banker/Broker/Servicer License #103315; AZ Mortgage Banker License – #0908096; CA Licensed by the Department of Business Oversight under the California Residential Mortgage Lending Act License #4130597; CO Envoy Mortgage, Ltd., 877-232-2461, Mortgage Company Registration #6666; DE Licensed by the Delaware State Bank Commissioner Licensed Lender Licensee #011264; GA Envoy Mortgage , LTD (LP) Georgia Residential Mortgage Licensee - Mortgage Lender License/Registration License #23619; IL Illinois Residential Mortgage Licensee License #MB.6759338; MA Mortgage Lender Licensee – License #MC6666 and MA Mortgage Broker Licensee – License #MC6666; MS Mortgage Lender License # 6666; NH Mortgage Banker License - Envoy Mortgage Limited Partnership – License #14552-MB; NJ Licensed by the N.J. Department of Banking and Insurance – Residential Mortgage Lending License NMLS #6666; NY Licensed Mortgage Banker – NYS Banking Department, License #B500979, 10496 Katy Freeway, Houston, Suite 250, Houston, TX 77043, 877-232-2461; OH Residential Mortgage Lending Act Certificate of Registration #MB.804190.000, Mortgage Broker Act Mortgage Banker Exemption #MBMB.850025.000 and General Loan Law Certificate of Registration #SM.501928.000; OR Mortgage Lending Licensee #ML-3933; RI - Rhode Island Licensed Lender – License # 20092627LL and Rhode Island Licensed Loan Broker – License # 20122861LB; TX Mortgage Banker Registration- NMLS #6666; VA Virginia NMLS ID#6666 (www.nmlsconsumeraccess.org) – Lender License and Broker License # MC3021; WA Envoy Mortgage Ltd d/b/a Envoy Mortgage, L.P.- WA Consumer Loan Company License # CL-6666 – http://nmlsconsumeraccess.org | Other authorized trade names: Envoy Mortgage LP; Envoy Mortgage of Wisconsin; Envoy Mortgage, A Limited Partnership; Envoy Mortgage, L.P.; Envoy Mortgage, Limited Partnership; Envoy Mortgage, LP; Envoy Mortgage, LTD Limited Partnership; ENVOY MORTGAGE, LTD, LP (USED IN VA BY: ENVOY MORTGAGE, LTD); Envoy Mortgage, LTD. (LP); Envoy Mortgage, LTD.; Team Get It Done Licensed by the Department of Business Oversight under the California Residential Mortgage Lending Act License #413 0597Illinois Residential Mortgage Licensee – License #MB.6759338