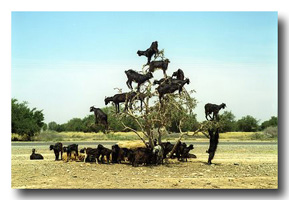 Amazing & Outrageous Tree Goats
I was driving down picturesque Alii Drive yesterday afternoon and just wished I had my camera! Yes it's true, Hawaii too has the famed Tree Goats. Now this photo is of Goats In Morocco, but these goats must have called the goats here in Kailua Kona on their Goat Phones!
We have plenty of wild goats in the open spaces and undeveloped lands of the Big Island of Hawaii. I see them frequently in little wild herds often right near the road. However, yesterday was the first time I have seen them in the trees! I nearly laughed until I peed my pants. It was just a ridiculous sight.
Well, the variety of amazing flora, fauna and yes now "Goatness" of Hawaii never cease to amaze me. I am thankful Hawaii is my home. A warm ocean breeze, the swaying of a coconut palm tree and a good laugh are hard to beat!
For more, and less silly, information about the community I live in visit my web site here. Have some fun and Google Tree Goats!