Hi Active Rain Members,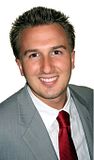 "Your Innovative Professional"
My name is James San Martin and I am a REALTOR in sunny South Florida. I also do SEO work on the side and I really enjoy it. I started a new business venture using Google Map Advertising. I have built a team together that focuses on getting our clients to the first page of google for a fraction of the cost of most SEO companies. Let me tell you a little more... Our Spotlight Business Marketing company does not make you sign a contract, we provide effective marketing for you, and if you dont like it we don't charge you anything! Lets us do a free trial to show you that we can get you one the first page and after a week if you like what you see, we will keep you up! I will only work with one Client in each city, so if this interests you PLEASE HURRY! You can Contact my company via E-Mail @ SEBMGroup@gmail.com.
Check out just a few KEY PHRASES where I dominate and receive leads on a daily basis:
Type these into Google!
FORECLOSURE REALTOR FT LAUDERDALE
FORECLOSURE REALTOR MIAMI
EWM REALTOR FT LAUDERDALE
............... and there are many more!!!!
Want James San Martin as a REALTOR?
www.SearchEngineBusinessMarketing.com