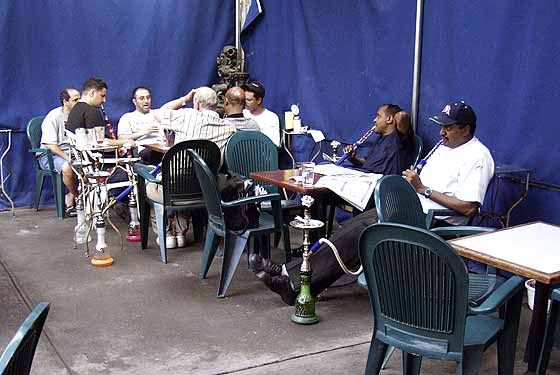 Looking for a place in Queens to get your smoke on?
Try the little Egypt section of Astoria...and more specifically the Egyptian Coffee Shop. New York Times named it one of the top five hookah restraunts in the entire city. No frills or alcohal here - just a 24 hour bare bones cafe serving coffee, light food and hookah. And with hookahs starting at $7 - why not give it a try?
The Down Low on Hookah-Mania
Over the past few years or so, the water pipe used to smoke a smooshy, wet tobacco has gained popularity with teens and college students. The trend has been burning up in larger cities in the U.S. enough to support several thriving hookah bars and cafes.

Let's just get something out of the way: The hookah pipe -- isn't for drugs. So get the image of the very stoned caterpillar from "Alice in Wonderland" out of your head. It's a water pipe, and while it's structurally similar to a bong and can be used for opium (mixed with tobacco) that's not its primary use. It's for tobacco -- specifically, a sticky mixture of 30 percent tobacco, 70 percent fruit and molasses.
The Egyptian Coffee Shop
25-09 Steinway St.
Astoria, NY 11103
(718) 777-5517