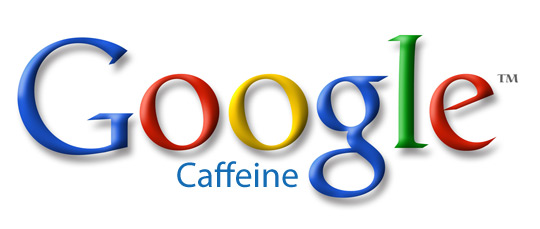 Some of you may have heard that Google is releasing an update to its search engine. "Caffeine" is the name that was given to Google's "Next Generation" search engine. By all accounts, this release seems to be a major overhaul and not just an update. Google has slated to release this new version after the holidays. Over the summer webmasters were given access to a beta version of the Caffeine release. This release was found at www2.sandbox.google.com but has been since taken down. However during this time I was able to view the new search engine in action. Some of my observations were;
Speed - It definitely seems the new searches ran faster. Some searches were in fact twice as quick.
Index - I also noticed more indexes as well. For example the old search may have yielded 75,000,000 results, while Caffeine yielded 300,000,000. A big jump in how results were found.
Relevance - As far as the results, Caffeine seemed to bring in more relevant responses when I searched items like news and events. Real time news results seemed to be more prevalent to me at least.
There has been some speculation, well at this point it looks like it is happening in one form or another, that Google will also be weighing how fast a website loads. So websites that are zippier and return the pages faster might get a bit more preference. I guess this all goes into the user experience.
At PubCon, Matt Cutts from Google said there is strong lobbying in Google to introduce a new ranking factor into the algorithm. The new ranking factor has to do with how fast a site or page loads. Matt described this as one of his 'what to expect in 2010′ bullet points in his talk in Las Vegas. It appears that this word came right down from Google's co-founders. They want pages loading as if you were flipping through a magazine.
I think long term for this to work, there needs to be some sort of scale. After all a page that loads in 3ms should rank higher than a page that loads in 3.5ms, even though the 3.5ms page is MUCH more relevant. I think not. However a page that loads in 25 seconds might be affected. This of course is my opinion and I hope Google's to when they release it. Think about how many times you clicked the back button when a page did not load in 5-6 seconds.
As highlighted by Matt Cutts, Google's spokesperson, the aim of the infrastructure change is to allow further evolution of search...so if you analyze the results a bunch now then what you are aiming for might look quite different from the search results which appear in November. So for now we need to wait until sometime early next year to see caffeine in action and I am sure the results will be good, after all Google always seems to be on top of things, while not perfect, they do have a very good track record. So keep your eyes out in 2010.