Did you know that August 7th was the 16th birthday of the World Wide Web (www)?
That's right, on August 7th, 1991, Sir Tim Berners-Lee sent the first message across the www/
Here's a portion of that message.
"The WWW project merges the techniques of information retrieval and hypertext to
make an easy but powerful global information system.

The project started with the philosophy that much academic information should
be freely available to anyone. It aims to allow information sharing within
internationally dispersed teams, and the dissemination of information by
support groups."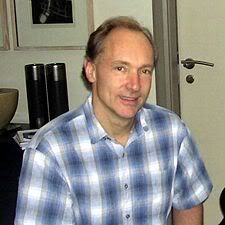 Sir Tim Berners-Lee, father of the www
While working at CERN, the European Organization for Nuclear Research, Doctor Lee saw an opportunity to marry the then cumbersome Internet to TCP and DNS ideas and in his words: "ta-da! - the World Wide Web."
Doctor Lee makes it sound much simplier that it actually is and we've certainly came a long, long way since that historic August 7th.
Happy Birthday to the www.
BTW, the www and the Internet, while very closely intertwined, are two separate things; here's the difference.