Provided to you Exclusively
By
Chad R Beard

 
Chad R Beard
US Financial Mortgage Corp.
Office: 586-552-8850
E-Mail: chad@myusfmc.com
 
 
For the week of Aug 20, 2007 --- Vol. 5, Issue 34
Last Week in Review


"A DAY MAY SINK OR SAVE A REALM." Lord Alfred Tennyson And indeed, many saw Friday morning's surprise action by the Fed as a move that saved the day in terms of the financial markets...at least for now. What was the surprise move exactly? It was actually a doubly good surprise, consisting of two specific actions by the Fed, designed to help ease some of the current fears in the financial markets.
First, a .50% cut to the Discount Rate, taking it from 6.25% down to 5.75%. This is the rate at which the Fed lends money directly to commercial banks, credit unions, savings & loans, and also including large mortgage bankers. Now this is a different rate than the Fed Funds Rate - which is the rate at which banks lend money to other banks, currently at 5.25% - and is the rate generally discussed in terms of cuts or hikes surrounding normally scheduled Fed meetings. Note, the Fed's move to cut the Discount Rate has no impact on mortgage rates or consumer rates like home equity lines of credit. The Discount Rate is generally above the Fed Funds Rate, which does make borrowing money from the Fed a last resort for lending institutions, as they would generally borrow from other banks at a lower rate. However, with the current liquidity situation making that more difficult by the day, the Fed's move will help provide lending institutions more liquidity at more desirable rates in the short term.
Next, the Fed extended the borrowing period on these funds from overnight to thirty days - which could allow some lenders to use this money for funding home loans, in case their other sources are backing off. It will also allow time for the credit markets overall to settle out a bit, and this move will help financial institutions better weather the current storm. In fact, Stocks loved the news - particularly financial stocks - and the Stock market rocketed higher on the good news. Bonds and conforming home loan rates were volatile throughout the week, but ended up unchanged to slightly improved overall.
SO BERNANKE AND THE FED MADE A SURPRISE MOVE...BUT BET YOU DON'T WANT YOUR KIDS TO BE MAKING ANY SURPRISE MOVES, AT LEAST NOT WITHOUT BEING IN COMMUNICATION WITH YOU FIRST. IF IT'S TIME TO GET YOUR CHILD OR TEEN A MOBILE PHONE - WHICH CAN NOT ONLY KEEP YOU IN TOUCH, BUT HELP YOU ACTUALLY TRACK WHERE THEY ARE - DON'T MISS READING THIS WEEK'S MORTGAGE MARKET VIEW.
Forecast for the Week


This week the economic report calendar slows to a crawl...but the volatility of recent days is unlikely to quiet down just yet. The schedule holds just a few mid-level reports, not overly likely to gain attention from Traders in the midst of all the present action. Friday's release of the Durable Goods Orders and New Home Sales reports will provide the week's greatest potential for market reaction in terms of economic releases - but the tone of the coming week and the trend of rates will depend on the day-to-day, hour-to-hour nature of the current climate and what breaking news may arrive from the financial markets around the world.

The chart below shows the volatile moves seen in Bond prices and conforming home loan rates over the past week - and depending on what headlines are in store for this coming week, the action is quite likely to continue. If Stocks take a breather and pull back from the levels reached on Friday's surge higher, it is likely that some of that money could flow into Bonds, and conforming home loan rates might see some improvement.

But remember that in the current climate, non-conforming loans are a different animal altogether. If you are in the market for a non-conforming loan, the rates on those products are responding to very different factors in the market, and are extremely volatile. Your best bet is to lock quickly, and close quickly, as the landscape for those products is changing on almost an hourly basis.

Chart: Fannie Mae 6.0% Mortgage Bond (Friday Aug 17, 2007)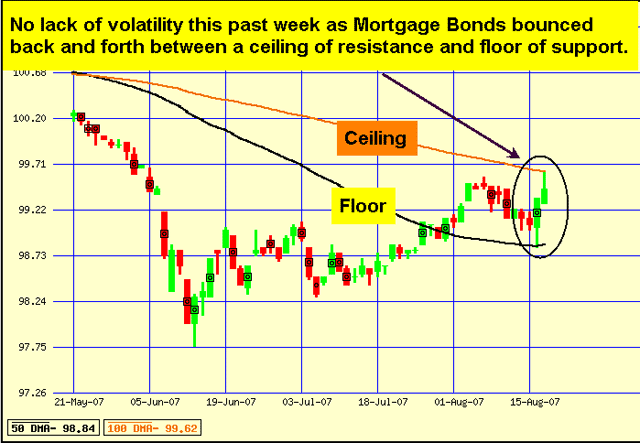 The Mortgage Market View...


So your kids want their first cell phone...
Is your elementary school child asking you for their first cell phone? Are they telling you that all of their friends have one? Well, as amazing as it may seem, market research confirms that many "tweens" - or 8-12 year olds - actually do have their own cell phone. Whether or not it's time to cross that bridge in your own family, here are a few suggestions that may help guide your decision if you decide to purchase one.
Emergency Use Only
If you only want your child to have a cell phone for truly emergency purposes, you can actually save money by purchasing an old used phone or handing one of your own down. A charged phone, even without a service plan, is still capable of dialing 911. True, this does limit its use to real emergencies, but in some cases that may be enough.
Big Brother? More like Big Mother
Many cell phones now have the option of GPS tracking, and for a fairly small monthly fee, parents can now access and track a child's location either through their own cell phones or through the internet. GPS location is typically accurate to within 25 feet or less and is fairly reliable - though it still relies on the phone being charged and turned on.
Some of the options offered by various providers include whether or not your child is notified when you check their location, as well as the ability to set up a specific area - where you are notified by a text message when your child leaves that area.
Limiting Factors
Some cell phones that are targeted towards younger children are designed without the standard number pad to dial numbers; instead, they offer just a few large buttons labeled with pictures. These phones require that you program numbers to these autodial buttons, thereby limiting who your child can call. The downside to these types of cell phones is that older children will not want to use them, as they do look like toys.
Phones to Consider
For younger children, consider the TicTalk by Enforma or the Verizon Migo. Options for older children may include the Disney phones, which offer a variety of parental controls such as limiting the numbers that can be dialed in or out, as well as limiting the use of the phone to certain times of day or week. Older tweens may prefer the Disney Mobile, though many of the above features are also available through most of the major cell service providers.
Good Luck and Don't Look Back
Just remember, once you cross this bridge it will be hard to go back, with those pesky service contracts locking you in - sometimes for a couple of years. If you want to test the waters, some of the options for younger children do not have service contracts, but are based on prepaid calling cards instead.
The Week's Economic Indicator Calendar

Remember, as a general rule, weaker than expected economic data is good for rates, while positive data causes rates to rise.
Economic Calendar for the Week of August 20 - August 24
| | | | | | | | |
| --- | --- | --- | --- | --- | --- | --- | --- |
| Date | ET | Economic Report | For | Estimate | Actual | Prior | Impact |
| Mon. August 20 | 10:00 | Index of Leading Econ Ind (LEI) | Jul | 0.3% | 0.4% | -0.3% | Low |
| Wed. August 22 | 10:30 | Crude Inventories | 8/17 | NA | 1890K | -5176K | Moderate |
| Thu. August 23 | 08:30 | Jobless Claims (Initial) | 8/18 | 320K | 322K | 322K | Moderate |
| Fri. August 24 | 08:30 | Durable Goods Orders | Jul | 1.0% |   | 1.4% | Moderate |
| Fri. August 24 | 10:00 | New Home Sales | Jul | 825K |   | 834K | Moderate |

The material contained in this newsletter has been prepared by an independent third-party provider. The content is provided for use by real estate, financial services and other professionals only and is not intended for consumer distribution. The material provided is for informational and educational purposes only and should not be construed as investment and/or mortgage advice. Although the material is deemed to be accurate and reliable, there is no guarantee it is not without errors.
As your trusted advisor, I am sending you the MMG WEEKLY because I am committed to keeping you updated on the economic events that impact interest rates and how they may affect you.
In the unlikely event that you no longer wish to receive these valuable market updates, please USE THIS LINK or email: chad@myusfmc.com
If you prefer to send your removal request by mail the address is:
Chad R Beard
23205 Gratiot Ave., #350
Eastpointe, MI 48080

MMG II, LLC is the copyright owner or licensee of the content and/or information in this email, unless otherwise indicated.   MMG II, LLC does not grant to you a license to any content, features or materials in this email.   You may not distribute, download, or save a copy of any of the content or screens except as otherwise provided in our Terms and Conditions of Membership, for any purpose.