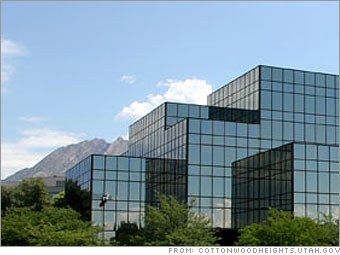 2 Years Old and in the Top 100 Cities, Cottonwood Heights A Salt Lake City Suburb Rocks
Cottonwood Heights the City Between the Canyons is the newest city in Salt Lake County. Was just recently named by MONEY Magazine as one of the top 100 Places to live in the entire United States. Population: 28,400 Median home price (2006): $330,155 Average property taxes (2005): $1,964.
It's location is prime, 20 minutes from downtown Salt Lake City, 30 Minutes to Park City, sits just south of Holladay and North of Sandy and East of Midvale on the East bench. Close to I-215 for easy access to the University of Utah and Research Park. For fun Cottonwood Heights sits at the mouth of Big Cottonwood Canyon which offers world class skiing and hiking till your hearts content.
Outside of Salt Lake City, Cottonwood Heights is home to the largest number of Class A office space in the state.
There are parts of two school districts in Cottonwood Heights, Granite and Jordan. Currently there are eight elementary, six middle/junior high schools and four high schools in the public system. There are private schools like Intermountain Christian School that has pre-K through 12. While there is work being done to possibly create a new East Side School district which several cites on the East side would separate from the Jordan school district. Feasibility study, Appendices and Should we create a New School District Booklet.
Home to the Cottonwood Recreation Center which offers Indoor and Outdoor Swimming, Tennis, Ice Skating, Hockey, Workout Facility and all around fun for the whole family.