Santa Ana River Jetty
If you find yourself in Newport Beach and need a great place to relax, the Santa Ana River Jetty is highly recommended. This is one of the few places in Newport Beach that is consistently uncrowded for those who want to experience the tranquility of the waves finding their way onshore. The jetties are a great surf spot at the mouth of the Santa Ana river bed that separates Newport Beach and Huntington Beach.
For those without a short board, the Santa Ana River Jetty are a fun place to play in the waves and enjoy the sun. If you spend the afternoon or morning there, be sure to stop by Newport Burger for a breakfast burrito, burger, or a wrap to enjoyon the beach.
It's a great place for just splashing around. Farther up the jetty, the water is shallow and can be good for the kids.
For those that want to mix in a little exercise into their visit, the Santa Ana River Jetty are a great launching point for a bike ride along the river bed to Talbert Regional Park about 1.5 miles away and then use the Victoria Street crossing to return down the other side of the river. If you want a more challenging ride, follow the Newport Beach side of the riverbed to Fairview Park about 2.3 miles from the beach. From Fairview Park you can cross the river on the walking bridge and then return along the river on the Huntington Beach to the Santa Ana River Jetty.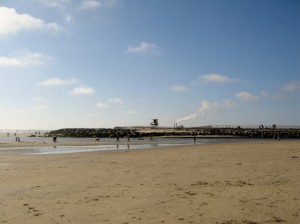 The surf break here at the Santa Ana River Jetty is pretty consistent and you will see a few experienced surfers enjoying the tight curls here most mornings. Depending on the contour of the sandbars and the direction of swells, the waves are generally fast and tightly curled. For this reason the surf along this section of the beach is very picturesque and is a great place to get memorable pics throughout the day. On most mornings there will be a few people out enjoying the scenery but it is rarely busy compared to most beaches in the area.
Originally published at Santa Ana River Jetty.