What is my Sandpoint City Idaho 83864 Home Worth?
January 2017 Market Report - In town Sales
Sandpoint Idaho 83864 sits on the northern most shores of Pend Oreille Lake (pronounced - Ponderay).  The Long Bridge entering Sandpoint from Sagle Idaho is considered the official line of where Lake Pend Oreille turns to Pend Oreille River.  2016 Consensus estimates Sandpoint City population at approximately 7,700 of the total 83864 population of 18,450.  With the dramatic diversity in 83864 topography and home styles I prefer giving two separate Sandpoint 83864 Market Reports in an effort to make comparisons a bit more in line without quite so much difference in land and home features.  Sandpoint City & Out of Town. This report being Sandpoint City. 

Sandpoint City Single Family Homes 'SOLD':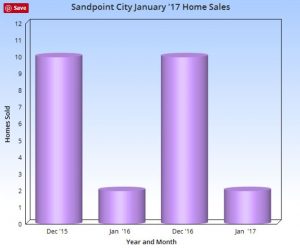 December 2015 - 10,  January 2016 - 2, December 2016 - 10,  January 2017 - 2
Sandpoint City Single Family Home Sale Median Price:
Dec '15 - $222,500,   Jan '16 - $123,000, Dec '16 - $207,450,  Jan '17 - $174,500
Sandpoint City Single Family Home Sales Median DOM (Days on Market)
Dec '15 - 112,   Jan '16 - 89,   Dec '16 - 93,  Jan '17 - 100
What do the above figures tell us?  Dec '16 median prices dropped 6.75% compared to Dec '15 while Jan '17 showed an increase over Jan 16 of 41%.  While a nice increase from a year ago still a substantial decrease from previous month.  I think what is important to look at here is the number of transactions.  They are showing very consistent with January drop in sales due to Holidays and winter months.  In real estate results do not show themselves until 45 to 60 days later.  Another words the '2' transactions for December for '15 and '16 indicative of slowdown beginning Thanksgiving.  February 1st showed a healthy Median active price of $290,000 with 37 active homes.  As we move out of holiday and winter months we will have a more telling look for sales in Sandpoint City for the year 2017.   My opinion is consistent transaction numbers, compared to last year,  with a small increase in Median 'Sold' price.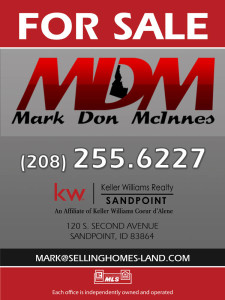 All indicators still show the market as a sellers market.  Although these broad figures are excellent for spotting trends, to best find "What your Sandpoint City, Idaho home is worth" you should have a personalized Home Value Report completed specific to your home.  Contact me now for your FREE No Obligation Home Value Report.
With Feb 1, 2017 Sandpoint City Single Family homes for sale numbering 37 there is currently over a 5 month inventory available if we average December and January sales.  Take into consideration increased sales as we move from winter months, and this shows itself holding true with the DOM (4 months discussed) average of 98.
Experience the Difference Living In North Idaho will make.  Contact me for your local North Idaho Real Estate Resource.
All information searched from Selkirk MLS and deemed reliable but not guaranteed.