For as long as I can remember, St. Martin's Fair in Franklin has been a "family" tradition as part of Labor Day weekend activities.  This year is no different...you can find anything and everything...from Farmer's Market style vegetable and fruit stands to craft items, Food and beverages from hot roasted corn to popped kettle corn, sausages, pizza, all things grillable and a pastry or two besides the snow cones and cold soda and beer.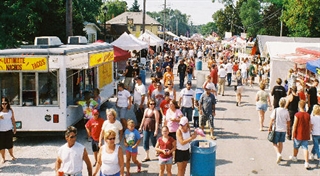 Hours during labor day weekend are:
             Sunday 8am to 9 pm
             Monday 6am to 6pm
      You can expect...or not expect to find anything and everything from clothing and household items to antiques,  sporting equipement, shrubs, flowers....and be seranaded by a variety of different kinds of musicians...you may hear the strains of a polka band or a "little bit rock 'n roll."
   You will find us toting the 50 pounds of onions that will find their way to the chopping block for our ever famous home made french onion soup, We carefully peruse the vegetable stands...likely to find red and yellow peppers for stuffing....leeks and potatoes for potato leek soup,..Berries may find their way to the "fermenting cellar" for home made cordials. 
Grab your comfortable walking shoes...you will be putting on a few miles as you take in all the vendors...St. Martins Fair is located on St. Martins Road (County Hwy MM) from West Forest Home Avenue to West Church Street.
      Enjoy the weather...the variety of things for sale...some exercise and the opportunity to patronize many local merchants and farmers.  We'll see you at the fair and if you want to hire real estate agents who are fair in every listing and every purchase...call the Hansons, Broker Associates with EXP Realty  for the prompt professional service and proven results you expect in all things real estate in southeastern Wisconsin.