Jark Krysinski *PREC (Personal Real Estate Corporation)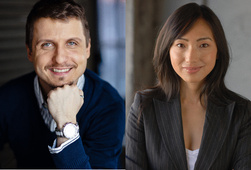 v60121
Real Estate Agent
Jark Krysinski *PREC (Personal Real Estate Corporation)
TeamYVR Team Leader, BA,ABR,IRES,IMSD,LLB
Vancouver, BC

—

REMAX CREST REALTY WESTSIDE

RE/MAX International Inc.
JARK KRYSINSKI, REALTOR®, BA.Hon, ABR, 100% Club, IRES, IMSD®, LLB TeamYVR Real Estate Agent, Team Leader, Top Producer RE/MAX Crest Realty Westside, 1428 W. 7th Ave, Vancouver
Get to know Jark Krysinski *PREC (Personal Real Estate Corporation)
Real Estate is our passion & what we've doing for over 16 years! Our Team doesn't only buy & sell real estate for our clients but we are avid Real Estate investors also. By partnering with Mortgage experts, Inspectors, Appraisers, Immigration Consultants, Movers, Interior Designers, and a number of Contractors, TeamYVR really goes from A-to-Z for our clients. With these strong relationships and experiences, we ensure that you, our clients and thus partner, fosters relationships with us well beyond our first transaction. Many of our clients join our business networking events and participate in the BC'wide network we have founded called BridgeMakers (see the Link on the left), two years ago. Our clients are our legacy and our relationships are our book of business.
In terms of spurs & accreditation, we are the #1 agents on Active Rain for Vancouver, which is the big north american blog for all professionals related to real estate. We also specialize in foreclosures, sales of distressed properties, as well as the growing "downsizing" community. In terms of systems and lead generating, we have about 1700 websites features dozens of Pre-Sales, and showcase ALL the buildings in: (1) the East Part of Vancouver (BcCondos.net/city-east-vancouver) & other developing cities like (2) Ladner (BcCondos.net/city-ladner) & (3) Tsawwassen (BcCondos.net/city-tsawwassen).
The director of our Asian department & business partner Olivia Hui Xue has a Masters Degree in Resource Management & Community Development from Simon Fraser University and she specializes in our Asian marketing engines. Working with international reach helps us head our Pre-Sales and Luxury property sales, where we specialize in over 30 upcoming New Developments in Vancouver and Beyond as well as in properties over the 2 million mark. These skills help us articulate the vision of the city to come and each developments' role in that vision, and our multi-lingual negotiation experience aids in drafting strong contracts for an international clientele.
Whether you are a first time homebuyer, looking to sell your property, or an experienced investor, we can provide you with comprehensive real estate solutions. Our website allows you to search for current listings and receive detailed descriptions and photographs. Customize your search by area, price or property type. Thinking of selling your home? Complete our on-line submission form and get recent sales figures of similar properties. Learn about our company and discover why we are the best at what we do.
Jark Krysinski *PREC (Personal Real Estate Corporation)'s Blog Posts
Home Selling
–

almost 9 years ago
ActiveRain Community
–

almost 9 years ago
Real Estate Sales and Marketing
–

almost 9 years ago
Real Estate Sales and Marketing
–

almost 9 years ago
Certifications
Here's an Articie I published about "First Time Buyers". (Xtra West, Vancouver, August 30th Issue)
THE SCIENCE OF THE FIRST REAL ESTATE PURCHASE – SIMPLE AS 1, 2 and 3
1. How Do I Know if I'm Ready to Buy, more Objectively?
Don't look to your heart for answers to real estate! It's a science. I have a checklist of 50 reasons supporting a real estate purchase. These take your financial history/present, your long-term plans, your personality, your preferred degree/nature of freedom, and whether you'd rather make a sound investment before or after making travel plans. Ask me for my checklist! 2. OK, I'm Totally Excited About Buying Something, How Do I Start?Finding the right REALTOR® (and NOT using the seller's agent!) is crucial. A REALTOR'S® services cost buyers nothing and are your best toolkit. Getting "pre-qualified" by at least two lenders is next! The most competitive way to secure financing is to speak to a neutral party, revealing ALL the bank's products to you, pitching your "financials" to dozens of lenders who make "best offers" for your business. Better than "asking" your favourite bank for a loan, turning the tables completely in your favour. Ask me for a list of mortgage brokers! 3. I'm "pre-qualified" and Am Ready to Buy, Let's Proceed?Finding the right home is a process of elimination, not selection. Listings are always uniquely heterogenous (read: "diverse"), providing new sets of picks. You ain't seen nothing until you've seen properties in their multitude.  Making a broad list of criteria and narrowing these down is best. Contact me, we'll setup criteria together using my tools of the trade! We'll generate several searches, broaden our nets, and build neighbourhood profiles ensuring every family-member is looked aftertoday and five years to come. I think relationally, not transactionally – your long-term benefits and relationship is more important to me than any single purchase. Five years from today YOU'll say: "He Knew Exactly What We Were Looking For."
Awards
100% Club @ REMAX Crest Realty
ACP Accredited Commercial Professional
ABR Accredited Buyer Representative
IMSD Internet Marketing Specialist Designation
BA Bachelors of Arts
Testimonials for Jark Krysinski *PREC (Personal Real Estate Corporation)
- Artine Hu, Richmond

09/18/2013

I am a new arrival in Canada. English is not my first language. TeamYVR's amazing Chinese translator and assistant was a great value. Through their team we managed to identify our needs, and then we negotiate an amazing price on two properties that appealed to us. Also, we learned how to transfer money from China and how to get the best mortgage through the many connections Jark and the Team had recommended to us. Without the personal contacts in the business from the team I could not have bought a property alone.


- J. Kim, Yaletown, Downtown Vancouver

07/10/2013

Dear Jark, this is my fourth purchase with you. When I was buying investment properties I interviewed a lot of professionals. Your education, professionalism, and experience as an Investor was invaluable to me. We speak the same language. The only difference is I am from Korea and have just been here for two years. Thank you for your patience and very hard work!


- A. & K. Temfak, New Westminster

06/28/2013

Our first purchase could never have been possible without your whole team! Not only did you find us what we were looking for, but the price was lower than we thought possible. Also, your referrals to a Mortgage Broker was essential, because our bank refused to give us a mortgage until we met with your Team!


- A. Garg, Coal Harbour, Downtown Vancouver

06/21/2013

Dear Jark, I have never seen a Real Estate Team deliver all the STRATA documents in such a comprehensive way. Noted summaries and detailed update history for my highrise must have taken a tremendous amount of time. I can see why your clients keep coming back, because they trust you, and you work harder than any other Realtor my sweetie and I have ever seen!


Wendy Lau, Dunbar

06/18/2013

I am new to this country. Before I was working with a Chinese agent to sell my home but they did not sell it. Jark and TeamYVR were recommended by my neighbour. I did not know how to work with local realtors but I was very happy with their service, work ethic, and promt sale of my home. I realized that their connections and international exposure was what I needed to sell my home. In the future I would only recommend working with the TeamYVR team to sell their home, they are very professional. Xie Xie

- P. Lipinski, Dunbar, Vancouver

04/18/2013

Dear Jark, thanks for the amazing negotiations on our property in Dunbar. That's an amazing arrangement Jark. Even I who knows so little about real estate knows this is amazing. not only am I indebted to you, I also need to thank the seller. You tell her that she's going to get a free professional corporate video for her social media side. I won't accept one penny and we start to shoot the day of the close.



- Tao Chang, Richmond

04/01/2013

My girlfriend and I almost bought a pre-sale in Richmond before meeting Jark. We are glad we met a professional Realtor to make our purchase. He educated us about the positive and negative sides of presales and suggested we buy an existing property instead. We learned that not only do we save the HST, but we can physically see the property. Buying a home from a 2D floorplan was not what we had in mind.


- M. Conners, Yaletown, Downtown Vancouver

03/13/2013

Apparently, everyone jumps when Jark calls. I never knew buying a Downtown property could be so dynamic. I spoke to several people today and they were not willing to do didly for my real estate questions. Then, I called Jark!! Wow! That was amazing! Thank you for your help! I have talked to a few friends today. If you are available maybe we could meet them soon I would love to refer you...whatever works for you. Ball is in your court..no pressure...when you get a chance.



- M. Bianchin, Fairview, Vancouver

02/19/2013

We have rented for years! When we met with Jark we never thought it was possible to buy. Three weeks later we found an amazing Townhouse in Fairview we never thought we could afford. You founds us what we dreamed of, and referred us a Mortgage Broker who made it possible. WE will refer you to all our friends & neighbours!


- P. Liotier, West Vancouver

01/23/2013

Dear Jark, In our area there was ONE SALE in the last Year, and you managed to sell in less than 3 months! Thank you my dear, you are the best. You have made our retirement a reality! I am happy to attached the signed removal of subjects. Bless you. Dinner is on us!

Introducing a fresh new look for your Profile.
Click the 'Edit Profile' button below to enter 'Edit Mode' and continue the tour.