Keller Williams Real Estate Career Training
Become A Successful Realtor On A Low Budget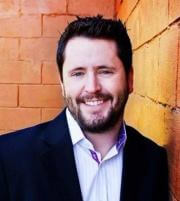 Working With Other Realtors
How did Keller Williams Realty Mega Agent Wayne Salmans(
voted one of 30 under 30 top Realtors in the nation by Realtor Magazine in 2009)
become a top selling real estate agent on practically a zero budget?  In this 6th step from his
12 Steps To Become A Mega Agent on a Zero Budget video series,
Wayne talks about the critical Golden Rule: treating other real estate agents the right way.  Wayne explains three powerful reasons why treating your fellow realtors the right way can impact the success of your real estate business.
Simply...Have Fun!
In this realtor career training video, Wayne explains the importance of Step 7 in becoming a successful realtor an a low budget...simply have fun!  In this industry, real estate customers are hiring you...not the real estate company you work for.   By having fun and thinking out of the box with your marketing, you will be able to differentiate yourself from the most of our competitors that are wound up too tight and not marketing on a personal level.   Remember, customers don't buy what you do...they buy why you do it.  If you are not having fun in your real estate career, your real estate clients and potential clients will be able to sense that.    Make sure to check out Wayne's other steps to becoming a mega real estate agent on practically a zero budget:  
Step 3-4Cookies, Virtual Assistants & Free Websites
, 
Step 2-3:Generating Real Estate Referrals From Other Realtors & Working With New Home Builders  & Step 1 in Becoming A Mega Agent on a Zero Budget – Door Knocking.