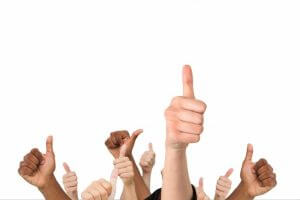 This article was originally published on the Home Value Leads blog.
Now that you've had a full year of client interactions behind you, it's time to ensure that you maximize your growth from them. What does that mean? Testimonials and reviews!
There is no better time than now to collect testimonials and reviews for your real estate business. Most agents find that this time of year is slower than others. It's also a great time to reflect on the service you've provided. Here is our round-up of advice on how to collect testimonials and reviews and get them posted for everyone to see.
Online Reviews
Online reviews are the most basic type of client feedback an agent can receive. These are left on public sites where you have a profile set up. Past clients can leave a negative or positive review and, in most cases, provide a number or star rating to match. Sites like Yelp, Trulia and even your Facebook business page all include online review and rating sections.
Your best bet for effectively submitting to and managing such sites is to choose one to three strong sources specific to your market or the real estate industry then building online reviews on those sites. When prospects find your listing there, they can get a better and more confident idea of how you can help them, too.
Testimonials
For the past twelve months, you worked hard to bring the best service to your real estate clients. For that, you deserve to bring that service to the forefront and to your benefit! Quotes from your past clients are perfect to use on your website, social media, print pieces and advertising. You are essentially collecting the positive feedback and sharing it wherever you can.
The voluntary nature of testimonials makes them a great opportunity to get a thorough review of your services and an anecdotal version that leads like to read most. Just in case a client is too shy to include their name or photo, don't worry. The content itself is enough to provide invaluable insight to help your prospective real estate clients make a more informed decision to work with you.
Make It Easy to Post Reviews and Testimonials
Just your business' being on a variety of online review sites makes it easy for clients to leave their feedback. For online reviews, you can simply let your clients know that you are on these sites and would appreciate their honest recollection of your service.
For testimonials, you must collect the information yourself. It will be a tad more work on your part, but it will be well worth it! How can you collect testimonials effectively and often?
First, you can develop a branded one-pager survey that you can provide to clients with their closing or new home packets. Be sure to remind them of the survey and that you will also email it to them so they can easily fill it out in the email and send back.
Online survey takers like Survey Monkey also work well. For up to 100 responses, you can set up a simple and slightly branded email survey for free and collect the data in one place, especially for the ratings questions.
A third-party service works wonders for those real estate agents who don't feel comfortable soliciting testimonials. Agent Reputation takes your testimonials and puts them where they will be the most effective at being found, generating more leads for you.
Listing out these questions for your client when asking for a testimonial makes it super easy for a client to answer your call to action. It helps them to clearly remember each important element to mention of their story in working with you. So be sure to include them in any ask for a testimonial.
Timing the Ask
Give your clients time to enjoy their home or breathe from the transaction (especially if they are moving and settling in). A good time to ask for a testimonial is a couple weeks after you've given your thank you and closing gift.
Don't give up if you don't get a testimonial or review right away. Ask your client again a month later after you've asked how they are faring. In your first ask, make the request simple and offer to send them question. One month later, if you don't hear from them, actually send them the questions.
If you think you could get a plethora of great reviews from past clients and never took the opportunity to do it right away, don't fret! Send a blanket newsletter as part of your New Year's marketing plan and ask for online reviews and testimonials. Again, make it easy by including links to the online review sites as well as your survey.