Phoenix MLS Housing Sales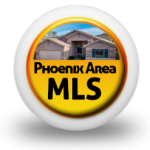 Realtors in the Phoenix real estate market closed 7,490 home sale transactions in May 2014. That's 178 less than April of 2014. Year-over-year sales are down considerably from 9,444 home sale transactions in May 2013. Additionally, home sales are the lowest point since 2008, six years ago. Real Estate Agents recognize spring and early summer as the peak buying season. Home buying demand has decreased in the Phoenix real estate market. The outlook is for a home buyer's market for the rest of the year. Desire a more comprehensive look at sales trends? Go here: PHOENIX REAL ESTATE MARKET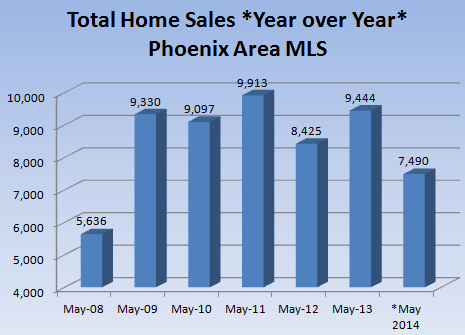 Price per square foot -- not average or median price -- is the best indicator of home prices. Price per square foot declined after 2 months at $130. The chart provides a 12 month perspective.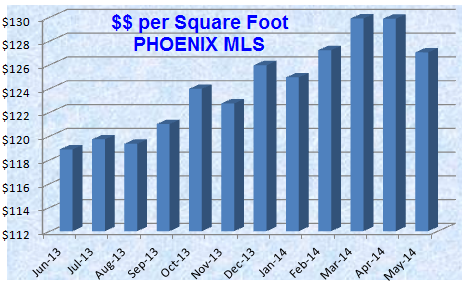 NOTE: The Cromford Report noted "...that the disappearance of distressed (foreclosure) sales almost accounts for the entire drop in year to date Phoenix MLS sales between 2013 and 2014." As professional Realtors we are not promoting that as a reason for the lower home buyer demand, but as Realtors who watch numbers it's an interesting correlation. Our suggestions for lower housing demand include:
Investor purchases have greatly diminished
Home buyers concerns about the federal government's policies
Loe job creation numbers
Baby boomers replaced as #1 home buyers by Millennials who have high college debt
Lower numbers of families being created
Phoenix MLS Listings and Inventory
Phoenix MLS listings have dropped for 3 consecutive months. The drop in property listings has not been dramatic. The net decrease in active listings over 3 months was 1,057 in the Phoenix MLS. Homeowners are not rushing to Realtors to put their homes on the Phoenix real estate market, probably because of lower home buyer demand. Let's contrast this drop in active property listings with the rapid increase we had not that long ago. There were 15,718 active listings ...
Read more at: Phoenix Market Tracker