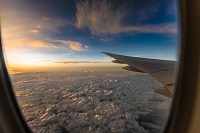 The list of nonstop flights out of and into Reno continues to grow.  Beginning in June 2017, Reno Airport adds another San Jose nonstop to its roster.  Currently, Alaska Airlines offers the only direct flight to San Jose from our Reno community.  Now, airline passengers have another option.
Reno Airport Adds Another San Jose Nonstop

Previously, Southwest Airlines offered a direct flight to San Jose.  However, in 2012, they discontinued this service.  Alaska Airlines stepped in to fill the void.  As more and more businesses move to the Reno area, travel between the Silicon Valley and Reno real estate increased.  Demand soared.  Southwest Airlines wants to meet this demand.  So, they are now offering another San Jose nonstop option through our Reno Airport.  Alaska Airlines will continue their direct flights to San Jose.  But more competition between airlines could mean better prices for commuters.
To celebrate its new nonstop to San Jose, Southwest will be offering super deals when the flight lane opens in June.  Special ticket prices of $39 one way have been bandied about.  Check the Southwest Airlines website for deals and scheduling.
Other Reno Airport Nonstop Flights in the Works
Just last weekend, Southwest began its seasonal nonstop to Dallas Love Field.  Through March 4th, commuters can fly directly into Dallas from Reno.  At its inaugural flight for this season, tickets for two round trip flights anywhere Southwest flies as well as a Dallas Cowboys playoff package were raffled off.
A couple of weeks ago, I wrote about the new Reno to Atlanta route offered by Delta.  That was just the latest in a series of direct domestic and international flights offered through the Reno Tahoe International Airport.  More international flights to Canada and Mexico are a high priority for the airport.  They are also working on adding Boston and Washington DC to their nonstop roster soon.