Even snow men are bailing out of the record bitter cold as Mother Winter laughs and sneers at Global Warming. Move to Arizona....NOW!
Not again! Please make the cold and snow stop! The US as a nation is in yet another DEEP FREEZE as winter storms sweep the country. Record low temperatures in Texas for example, temperatures not seen in many decades. Rolling blackouts causing Americans to lose heat in the bitter cold as Winter laughs at Solar energy and those freezing at the same time our self sufficient Transamerica pipeline is being shut down.
Record Bitter Cold Sweeps Nation putting 150 Million People under Winter Warnings
Those wondering about the bitter cold and record snow of this years "Wicked Winter Deep Freeze" sweeping deep into the south and also east might be saying in relief "I am glad that this is actually global warming, think how bad it would be if we had global chilling?"
CNN February 15, 2021, Steve Amasy, Hollie Silverman and Joe Sutton, "Nearly 154 million Americans were under a winter weather alert Monday, according to the National Weather Service. Wind chill warnings or advisories are in effect for about 68 million people. Icy roads, power outages and dangerously low temperatures were making life miserable

The cold air is so widespread that you could travel nearly 2,000 miles from the Rio Grande on the Mexican border to the St. Lawrence River on the Canadian border entirely in winter storm warnings or watches.

More than 5.1 million customers across the country had no power as of Monday afternoon because of the deadly storm system. At least 4.2 million outages were reported in Texas, where rolling blackouts started overnight.

The severe winter weather has sparked emergency declarations in at least seven states, including Alabama, Oregon, Oklahoma, Kansas, Kentucky, Mississippi and Texas. Texas Gov. Greg Abbott and the Texas Military Department have deployed the National Guard to conduct welfare checks on residents, according to a news release from his office.

State officials are also sending resources to assist local communities in clearing roadways and assisting health care personnel and power grid workers, the release said.

Officials have opened 135 warming centers across the state.

"Due to the severe weather and freezing temperatures across our state, many power companies have been unable to generate power, whether it's from coal, natural gas, or wind power," Abbott said.

The city of Galveston said up to 95% of households were powerless early Monday afternoon."
Hey folks, have you also thought about moving to sunny Scottsdale Arizona? Spring training starts next month.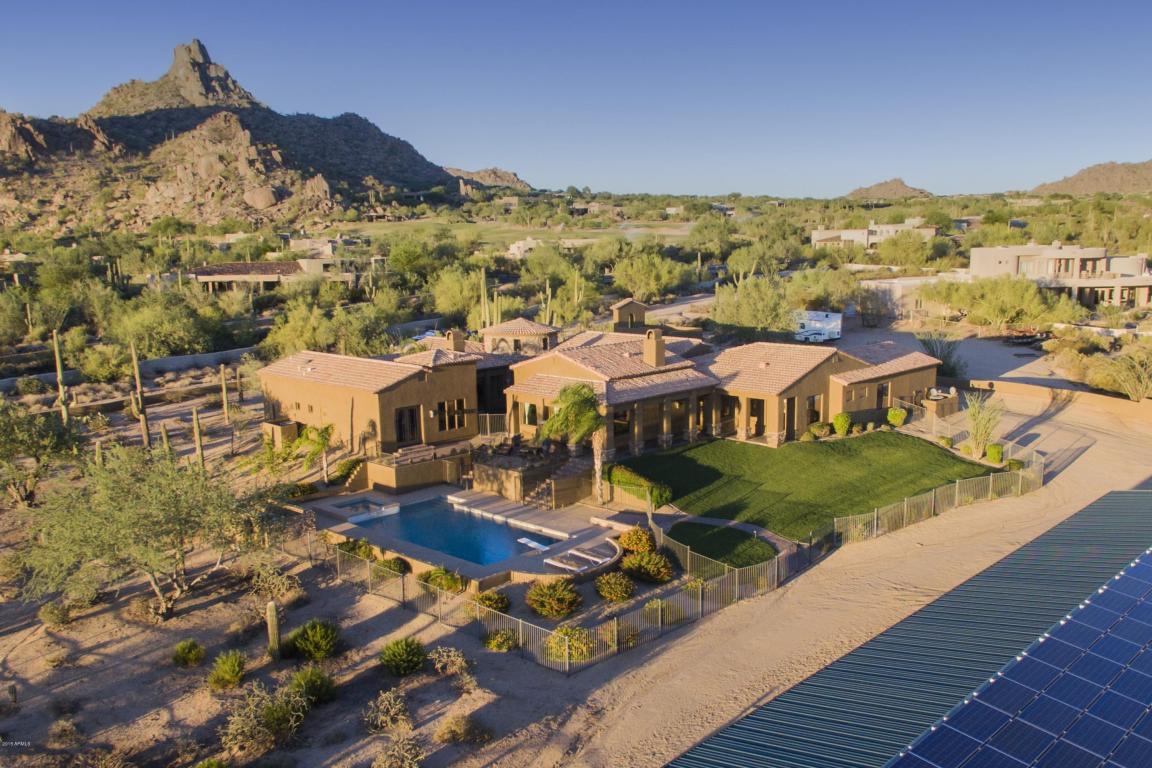 Sunny Scottsdale home with Pinnacle Peak in background
Is 2021 the year you finally decide to leave the snowy east and move west to live in Scottsdale, Arizona which is constantly selected by independent reviews as one of the best cities to live in the US? Characterized by sunshine, great weather, sunsets, mountain views, "foodie" city, resort hotels, golf, shopping, sports and entertainment, excellent schools, bike paths, desert hikes and more, Scottsdale is the place to raise your family or retire!

Scottsdale, Arizona single family detached home on Lake Angela sold by Jeffrey Masich, Realtor with HomeSmart at 8206 E Del Cadena Drive, Scottsdale, Arizona at Islands on McCormick Ranch
To learn more about single family Detached homes for sale in Scottsdale with pictures, prices and maps. Are you looking for a new place to call home? Relax at your own Scottsdale home with the great Arizona weather, restaurants, golf courses and shopping nearby. Ask about  Scottsdale waterfront homes or Scottsdale golf course homes for sale. 
Scottsdale, Arizona is ranked as one of the top 10 cities to live, "foodie" cities and safest cities in the US by independent national studies! For a video on Scottsdale and Arizona living and lifestyle
                                         Scottsdale golf course homes with great views are very nice!                   
                     Information about Scottsdale Arizona living and real estate
Looking for something else? Here are more Scottsdale homes and/or land for sale:
Luxury homes for sale in Scottsdale 
Detached homes for sale in Scottsdale 
Scottsdale Pool Homes for sale 3+ Bedrooms
Condos, Townhomes, Patio Homes for sale in Scottsdale
All homes for sale in Scottsdale 
Scottsdale homes for sale with 1+ Acres 
Scottsdale homes for sale on golf course lots
Residential Lots for Sale in Scottsdale 1/2+ Acres
3+ garage homes with a pool for sale in Scottsdale 
Scottsdale ranches and horse properties for sale
Scottsdale homes with a guest house or casita for sale 
Scottsdale waterfront homes for sale   
Scottsdale homes with city light views
MLS Search for homes for sale in Scottsdale
LIving in the Phoenix Metro Area and Scottsdale                 
  Information about living and buying a home in Phoenix metro area and Scottsdale 
Meet Jeff Masich, your Arizona MAN CAVE REALTOR® 
                                      Meet Jeffrey Masich, REALTOR® to get started
Are you thinking of moving to Scottsdale or the great desert southwest? If so, check out homes for sale in Scottsdale
If you are looking to move to Arizona or Scottsdale and looking to buy a home in Arizona or sell a home in Arizona, contact Jeffrey Masich, Associate Broker and Realtor. As a specialty, I am the KING of HOMES FOR SALE with RV GARAGE or RV GATE. I would be pleased to help you and look out for your best interests while finding you the right home at the right price!