ANNOUNCEMENT: A Sequim Real Estate Seminar for sellers will be held this coming Monday, June 11th from 6:00 to 8:00 in the evening at the Sequim Library. The seminar is free for Sequim homeowners. Seating is limited and you can register online right now.
Sequim Real Estate Seminar for Sequim Homeowners
Topics covered will include:
How to bridge the gap from the traditional approach to the new world of marketing.

Discover what new marketing techniques have replaced print newspapers & magazines.

Find out the deadly sins that almost guarantee you won't sell your home.

Learn how to connect with "qualified buyers."

Learn how to price your home to sell (that doesn't mean keep reducing the price).

Learn how buyers think today.

Learn about the importance of social media & other technologies.

Find out about search engines, SEO and how buyers search for Sequim homes.

Learn the truth about what marketing techniques work and which ones do not.
Seating is limited, so it would be good to register right away.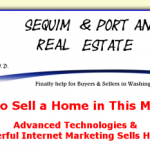 Your Sequim Real Estate Seminar Instructor will be Chuck Marunde. Chuck is a Sequim Real Estate Broker, a 37 year real estate veteran, a 20-year real estate attorney, the author of two real estate books, including one written for real estate agents entitled, The New World of Marketing for Real Estate Agents. Chuck is recognized as one of the nation's experts on Internet marketing and how to bridge the gap from traditional real estate marketing to the new world of marketing. He has taught thousands of agents around the country, and for the first time is going to share some of these strategies with Sequim homeowners.
Register online for the Sequim Real Estate Seminar now at How to Sell a Home in This Market.