The Santa Monica, CA Condominium Market Trends Report is always interesting, since everyone from the Globe is familiar and would love to live in Santa Monica, CA. Everyone measures how many blocks from the Pacific Ocean is their home. Clearly nowdays Fourteen Blocks is considered close!
Let's look at the Inventory:
The average reader would be excited to see such increase in inventory.... Now in my experience this is virtually nothing compared to the huge demand. Now with that said let's see the Days on Market Statistics: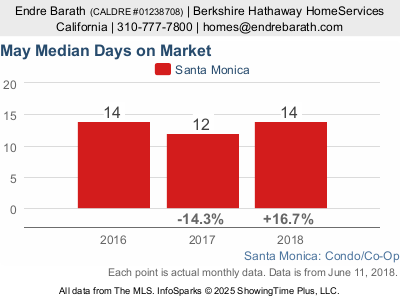 As you can see 14 days for the Median Days on Market is clearly a seller's market and I anticipate that the Sales Prices will be higher too due to the strong demand and the strong active market. Actually I found this increase to be minor compared to previous months. Hence the increase in inventory helped in maintaining a relatively small increase in the price points.
If you are considering buying or selling a Condominium in Santa Monica please reach out to me directly~
Now you are looking for a pet friendly Beverly Hills Realtor who can handle and sell the most difficult properties that no one else could, please reach out to me directly!! If you are considering buying or selling a home, a luxury home, luxury investment real estate, luxury vacation homes, or luxury beach properties in Southern California, Los Angeles, Century City, Westwood, West Hollywood, Beverly Hills, Marina Del Rey, Venice or Malibu, feel free to contact me at 310.486.1002 (m) or homes@endrebarath.com or visit one of my websites at http://www.endrebarath.com  I contribute a portion of my commission to local animal rescue organizations.