December 7, 1941, "A Day That Will Live In Infamy", 80 years ago....today on a quiet Sunday.
Arizona and Pearl Harbor, Hawaii are connected in a way other than sunshine, tourists and beautiful landscapes, especially on this December 7, 2021. Do you know why?
Click Box for CBS News report on the USS Arizona memorial at the University of Arizona in Tucson
USS Arizona Before the Sneak Attack by Japan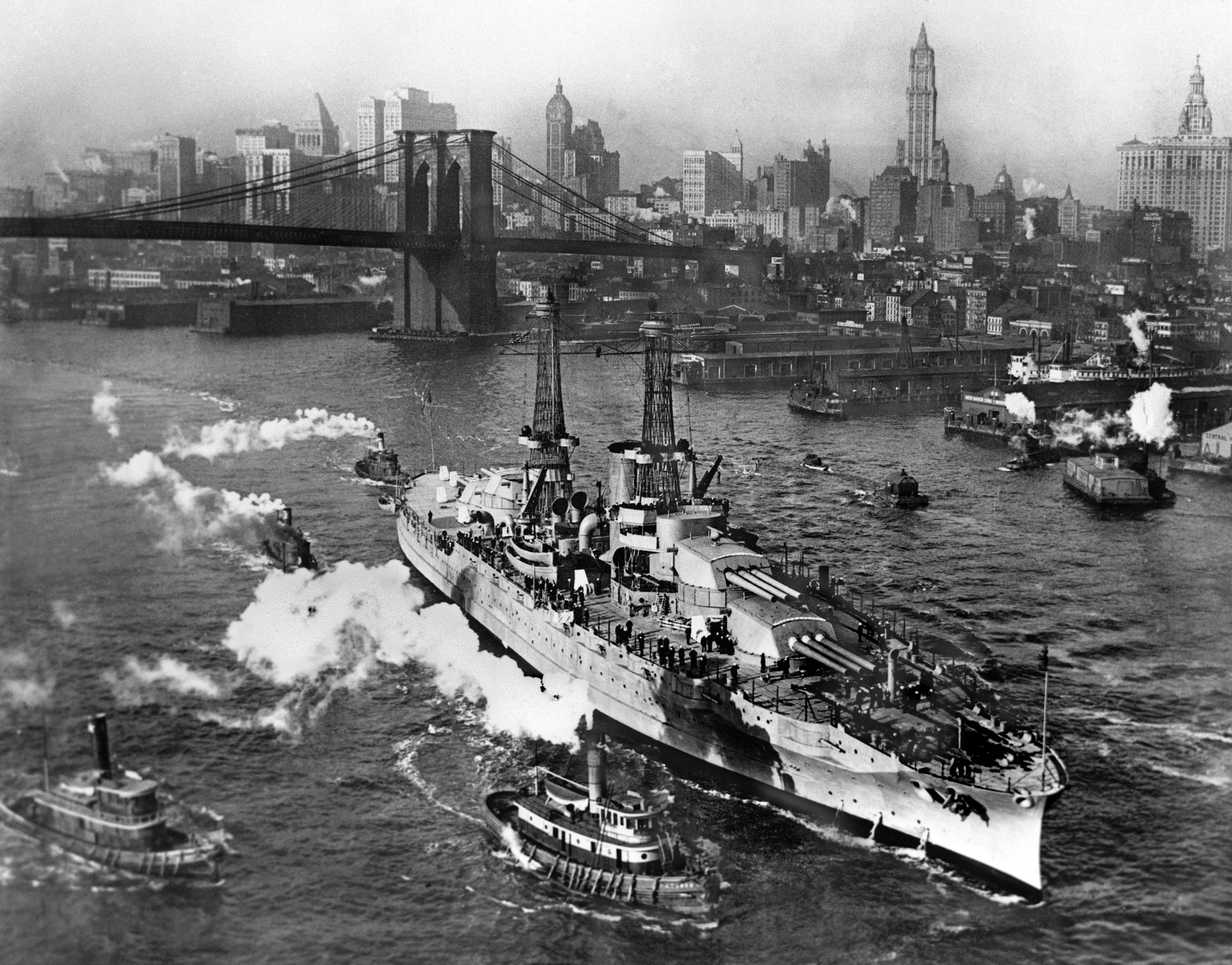 USS Arizona leaving New York City harbor
With the 80th anniversary this year 2021 of  the Pearl Harbor, Hawaii attack on December 7, 1941, as Franklin Delanor Roosevelt (FDR) said, "A Day that will live in infamy" marking the Empire of Japan's sudden and deliberate attack of the United States causing our country's entrance into World War II, we remember the USS Arizona (pictured here in 1916 in New York City- Wikepedia) that lays today in a water grave at Pearl Harbor Hawaii. Those 1,177 Pearl Harbor sailors that perished that day from the USS Arizona are American heroes as well as others lost on other naval vessels. It should be noted that a permanent outline with a red brick border of the actual dimensions of the USS Arizona was installed on the University of Arizona, Tucson campus on the grass mall in front of the Student Union and the bell tower for the USS Arizona bell and anchor chains on display. On the simulated brick wall bridge of the USS Arizona, within the outline, is a personal medallion for each of the doomed sailors that gave their lives for our country.
From CBS News article, USS Arizona outline is in brick at University of Arizona memorial, Tucson
There is also a replica of the ship and a history museum in a study hall at the Student Union and the anchor and chains are also on display at the Student Union. A worthwhile visit.  To see images of the USS Arizona memorial at the University of Arizona, Tucson in an excellent article and video by CBS News when the memorial outline was completed which added to the existing memorial at the University of Arizona.
In 2019 Arizona Governor Doug Ducey recognized the Arizona Navajo "Code Talkers" for their important role in WWII
photo from azgovernor.gov
From AZGovernor.gov..."More than 400 Navajo Code Talkers answered the call to serve after the Pearl Harbor attacks in 1941," said Governor Ducey. "Because of their service, their sacrifice and the use of their native language, the United States and Allied Forces secured victory in World War II. For that, we owe them a debt that can never be repaid."...

"Navajo Code Talkers used their native language to develop an unbreakable code during World War II. Code Talkers assisted in every major operation involving the United States Marines in the Pacific Ocean theatre, including during the battle at Iwo Jima where they successfully transmitted more than 800 messages without error."
We are proud of our military in Arizona that have served our country with their courage and lives.
Come visit us in Arizona and the USS Arizona memorial at the University of Arizona in Tucson. For more information about Things To Do in Arizona check here for an always up to date list.
If you are looking to move to Phoenix including Scottsdale or to buy a home in Arizona or sell a home in Arizona, contact Jeffrey Masich, Associate Broker and Realtor. I would be pleased to help you and look out for your best interests while finding you the right home at the right price!
Press FREE MLS Search to search for Arizona Homes and Land for sale