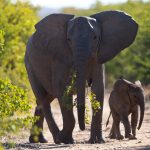 Who else loves elephants? One of God's most majestic creatures, elephants appear both regal and playful. I think fondly of reading the "Babar the Elephant" series of books as a child.
Join me in the worldwide observance on August 12th of World Elephant Day. See how others celebrate pachyderms at WorldElephantDay.org.  Images courtesy of World Elephant Day.
Thanks for reading "Celebrate Elegant Elephants on August 12".