The Westchester, CA 90045 Market Trends Report is published.  As most of you by now know that Westchester is directly next to Los Angeles International Airport aka LAX. Also the part of Los Angeles that Diane and I call home.
Hence I would be remiss if I did not give a periodic update. My neighbors and my clients love to hear how the market is faring in our 'hood'.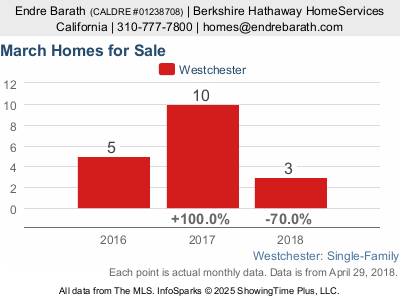 Clearly  you heard me complain, grouse and write frustrating comments about the lack of inventory, well see for yourself! As you can see there is virtually no inventory so with that said let's see what the Pending Status looks like: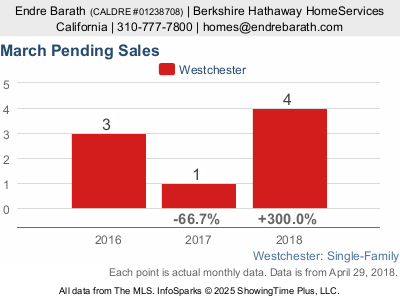 Please do not look at the per cent numbers because it will just make you shake your head. Instead look at the actual numbers. Clearly there are a handful that are in Pending Status.
Now let us look at how the Days on Market is looking: This is so deceptive, I hear people complaining that the market has cooled. Please do not fall into this trap. There is virtually no inventory and any decent property is immediately in Escrow. When you see large Days on Market that is the perfect indication that the Sellers and their agents priced the homes a bit ambitiously and hence the length on the Market.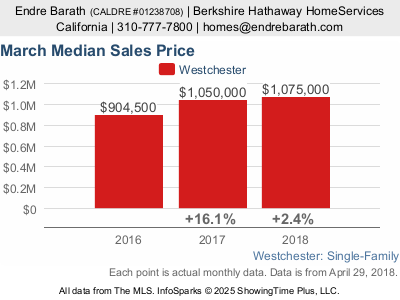 As you can see the prices have stabilized a bit but they are still increasing what I would consider at a moderate pace.
Now if you are looking to sell or buy in Westchester, CA please reach out to a Realtor who not only knows the market but lives in the community.
If you are looking for a pet friendly Beverly Hills Realtor who can handle and sell the most difficult properties that no one else could, please reach out to me directly!! If you are considering buying or selling a home, a luxury home, luxury investment real estate, luxury vacation homes, or luxury beach properties in Southern California, Los Angeles, Century City, Westwood, West Hollywood, Beverly Hills, Marina Del Rey, Venice or Malibu, feel free to contact me at 310.486.1002 (m) or homes@endrebarath.com or visit one of my websites at http://www.endrebarath.com.  I contribute a portion of my commission to local animal rescue organizations.