Book Recommendation: Horse by Geraldine Brooks
I enjoyed reading Horse (2022) an outstanding novel by Geraldine Brooks and highly recommend it for your reading list. Click on the links to learn more about the author and this book.
A discarded painting in a junk pile, a skeleton in an attic, and the greatest racehorse in American history: from these strands, a Pulitzer Prize winner braids a sweeping story of spirit, obsession, and injustice across American history

Kentucky, 1850. An enslaved groom named Jarret and a bay foal forge a bond of understanding that will carry the horse to record-setting victories across the South. When the nation erupts in civil war, an itinerant young artist who has made his name on paintings of the racehorse takes up arms for the Union. On a perilous night, he reunites with the stallion and his groom, very far from the glamor of any racetrack.

New York City, 1954. Martha Jackson, a gallery owner celebrated for taking risks on edgy contemporary painters, becomes obsessed with a nineteenth-century equestrian oil painting of mysterious provenance.

Washington, DC, 2019. Jess, a Smithsonian scientist from Australia, and Theo, a Nigerian-American art historian, find themselves unexpectedly connected through their shared interest in the horse--one studying the stallion's bones for clues to his power and endurance, the other uncovering the lost history of the unsung Black horsemen who were critical to his racing success.

Based on the remarkable true story of the record-breaking thoroughbred Lexington, Horse is a novel of art and science, love and obsession, and our unfinished reckoning with racism. Goodreads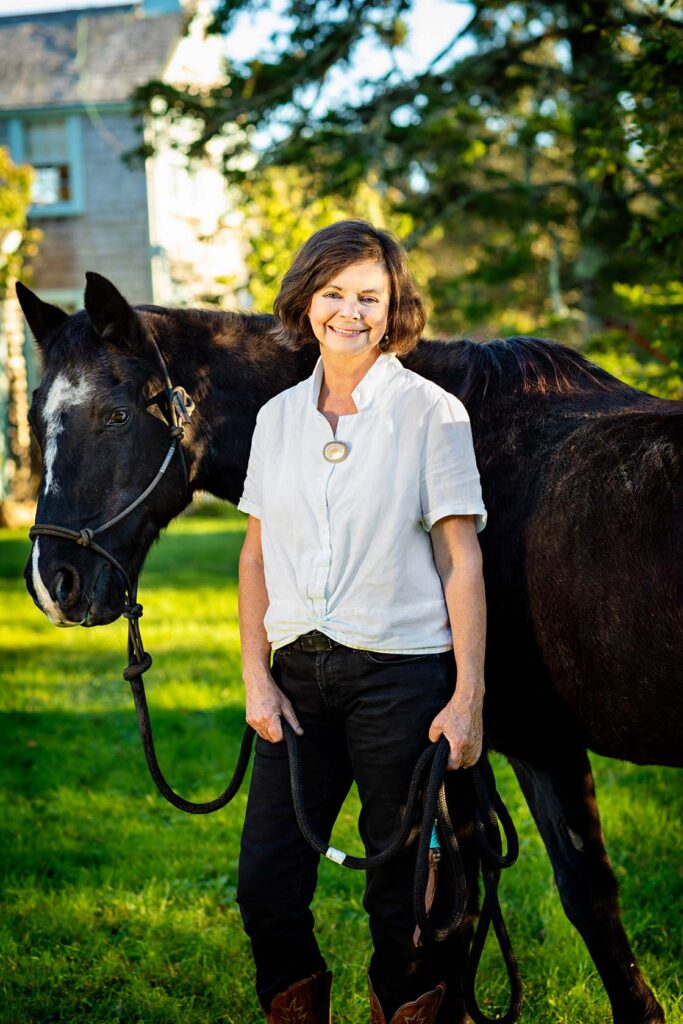 Australian-born Geraldine Brooks is an author and journalist who grew up in the Western suburbs of Sydney, attending Bethlehem College Ashfield and the University of Sydney. She worked as a reporter for The Sydney Morning Herald for three years as a feature writer with a special interest in environmental issues.
In 1982 she won the Greg Shackleton Australian News Correspondents scholarship to the journalism master's program at Columbia University in New York City. Later she worked forThe Wall Street Journal, where she covered crises in the the Middle East, Africa, and the Balkans. In 1990, with her husband Tony Horwitz, she won the Overseas Press Club Award for best coverage of the Gulf War. The following year they received a citation for excellence for their series, "War and Peace."  In 2006 she was a fellow at the Radcliffe Institute for Advanced Studies at Harvard University. She returned to Harvard as a Visiting Lecturer in 2021.
She was awarded the Pulitzer Prize in fiction in 2006 for her novel March. Her novels People of the Book, Caleb's Crossing and The Secret Chord all were New York Times Bestsellers. Her first novel, Year of Wonders is an an international bestseller, translated into more than 25 languages and currently optioned for a limited series by Olivia Coleman's production company. She is also the author of the nonfiction works Nine Parts of Desire, Foreign Correspondence and The Idea of Home.
Brooks married fellow journalist and author Tony Horwitz in Tourette-sur-Loup France in 1984 and were together until his sudden death in 2019.  They have two sons, Nathaniel and Bizu, She now lives with a dog named Bear and a mare named Valentine by an old mill pond on Martha's Vineyard and spends as much time as she can in Australia.  In 2016, she was named an Officer in the Order of Australia.
Kentlands Photowalk, Gaithersburg, Maryland USA IMG 7522
Canon PowerShot G11 Camera
Photograph by Roy Kelley 
Roy and Dolores Kelley Photographs