What were you thinking? A tale of Attic HVAC's- Wenatchee Home Inspection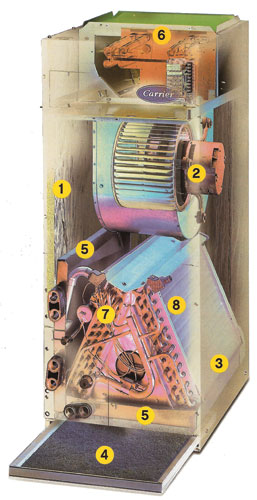 It is not unusual to see the furnace air handling units in Attics and Crawlspaces. Though not the norm, space sometimes dictates using these areas for these units
.
I am not a big fan of these placements due to the fact that it makes service and maintenance more difficult. These components are already not usually serviced as recommended or required.

But this example lands in the land of "What were you thinking?"

This particular home was served by two air handling units located in two different attic spaces. Both air handlers had AC evaporator coils.


To change the air filter in one unit you had to climb over it to get to the filter housing. But on the other unit this was not the issue. The issue was that you could not get the air filter in without mangling it a bit. I guess they need a flex filter.



To top it off the offending HVAC handler had no secondary pan.


The IRC (International Residential Code) is pretty clear here-

M1411.3.1 Auxiliary and secondary drain systems.
In addition to the requirements of Section M1411.3, a secondary drain or auxiliary drain pan shall be required for each cooling or evaporator coil where damage to any building components will occur as a result of overflow from the equipment drain pan or stoppage in the condensate drain piping.

Since there are rooms directly under this space I think this qualifies.

It looks like the HVAC technician is going to have a fun job here.
"An investment in knowledge pays the best interest."
Benjamin Franklin
NCW Home Inspections, LLC is a Licensed Washington State Home Inspection service located in Wenatchee Washington serving Chelan County, Douglas County, Kittitas County, Okanogan County and Grant County Washington and the cities of Wenatchee, Leavenworth, Cashmere, Orville, Cle Elum, East Wenatchee, Quincy and many more…

Your Wenatchee and Chelan Professional Home and Structural Pest Inspection Service
509-670-9572 or on the web atwww.ncwhomeinspections.com