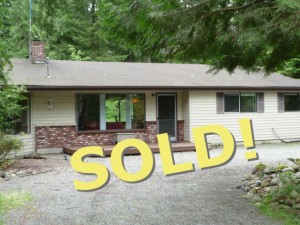 Mission accomplished! The Seller of this wonderful little house in the Hobart area of Maple Valley left a legacy for the new Buyer family -- "Here's a place where you can raise your own young children, with places to run and play and shout and sing. We loved it and know you will too."
This transaction was simple and surprisingly quick! With particular thanks to Erik Reault of Cobalt Mortgage who put together a very fast and efficient FHA 203k rehab loan, and thanks to the cooperating agent on the transaction, Jeff Kissick. Thank you both for a job well done and your great communication.
And, of course, special thanks to members of my valued team: You prove your excellence and professionalism every single time!-- Marilyn Brown (and Dawn Carlson, my rep) and the rest of the staff at First American Title and Escrow in Kent -- you guys rock! This one moved so fast that it caught us all scrambling at the end to get everything done in time.
And thanks also to the staff at Stuth Septic for stepping up so quickly to complete the septic inspection and to Neighbors Septic for popping out at the last minute to pump the tank.
There were rocky moments as there are with every transaction, but the Seller and I definitely appreciated everyone's efforts! Thanks again to everyone involved!
Your Dedicated Realtor, ActiveRain Blogger, Seller, Buyer, and Short Sale agent working the Auburn, Kent, Renton, Maple Valley, Federal Way, Covington, Puyallup, Sumner, Bonney Lake, Lake Tapps, and north/northeast Tacoma areas. Visit my Web site too!